Toggle form
Personal information & Eligibility criteria
Where to migrate as an investor? We compare the top destinations.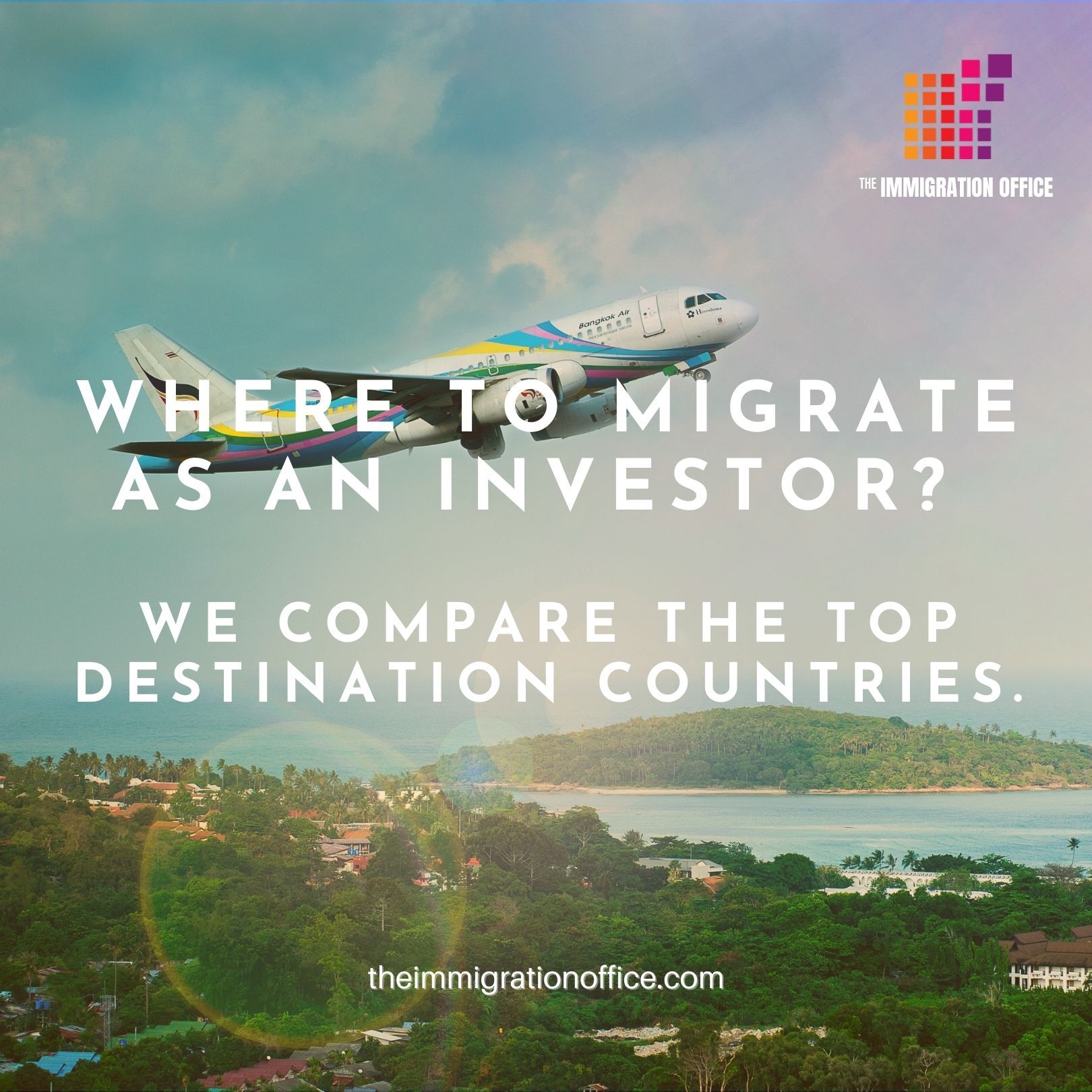 There are plenty of reasons why investors may want to move abroad. Some want to diversify their portfolio and invest in foreign real estate, while others are looking for better business opportunities, or perhaps to retire elsewhere.
While some countries offer attractive incentives for foreign investors, choosing the right destination is no easy task. Here, we compare four countries investors might consider moving to — Canada, Portugal, Australia, and New Zealand.
1. Canada
Ranked as one of the best countries for doing business by Forbes, Canada's stable economy and low unemployment rate make it an attractive destination for investors. The country offers an excellent quality of life, advanced infrastructure, and well-developed public services. These factors make Canada a great place to live and do business. The government also offers various incentives to foreign investors who want to start a business in Canada or buy real estate properties there. The country has a strong rule of law and a well-developed legal system. Canada is also one of the few countries that do not tax foreign income earned by its citizens or residents. You only pay taxes on your Canadian-earned income.
Canada has two immigration programs that allow you to apply as an investor: the Express Entry and the Start-up Visa Program. The Express Entry program allows those who meet specific criteria to apply for permanent residence status (PR). The Start-up Visa Program gives entrepreneurs access to funding from Canadian venture capital funds or angel investors without requiring them to be selected through Express Entry first.
2. Portugal
While Portugal is a great place to live and work, it is also a great place to invest. It is considered one of the best destinations for international investors looking to transfer their capital from one country to another due to its stable, fast-growing economy and attractive tax environment. It also has a low cost of living, which means you can save money if you stay in Portugal for a long time. It also offers a strong investment climate, which makes it easy for investors to get their hands on real estate in this relatively young country. The government of Portugal provides various incentives for investors who want to move to the country, including tax breaks and subsidies on property purchases and investments.
Portugal offers a wide range of investment options, ranging from high-growth tech start-ups and established companies with solid balance sheets to real estate. The most popular options are purchasing real estate, shares in investment funds, and starting a business.
Find out more about how to become a citizen of Portugal by investing !
3. Australia
Australia is one of the best destinations for those seeking new shores, with many investment opportunities for business owners and investors. Its unique location makes it a regional economic powerhouse. It has a strong economy that is growing steadily and boasts one of the lowest corporate tax rates in the world. The country has a stable government, a strong legal system, and an excellent education system. It also has a low crime rate and very few political risks. The country also has a low cost of living compared to others in the Pacific region.
Entrepreneurs can start or buy a business in Australia with the help of the Australian Business Innovation and Investment Visa. It is a route to permanent residency with outstanding advantages for qualified candidates.
4. New Zealand
As one of the most stable and well-governed countries worldwide, New Zealand is an attractive destination for investment, business, and family life. When it comes to protecting investors, establishing a business, and the convenience of conducting business, the nation rates among the top 10 worldwide. The political, social, and economic stability, along with the solid legal system, make investing in New Zealand a wise choice. The high standards of living and world-class quality of life provide an exceptional balance of business and lifestyle.
New Zealand's Active Investor Plus Visa enables investors to live, work, and study in the nation permanently by investing in a New Zealand business or government, or buying or setting up their own business. The visa aims to draw investors and encourage investment that benefits the local economy. After five years of residency, investors may apply for New Zealand citizenship.
With so many options available for citizenship, there are countless factors to consider. Deciding where to move is a difficult decision that can seem overwhelming. At The Immigration Office, you can put our experience to use for your benefit. We can give you insights into the various international immigration options available for investors today, including what will best suit your needs in the future. Call us for a free consultation to discuss your immigration and business requirements.