Toggle form
Personal information & Eligibility criteria
Webinar – Portugal Golden Visa 2022 Updates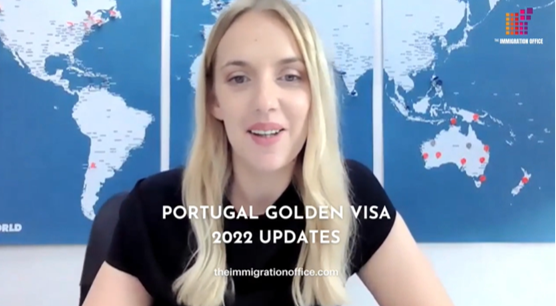 Watch our webinar on the Portugal Golden Visa Updates.
The Portugal Golden Visa gives investors and their families Permanent Residency to live,
work and study in Portugal and the right to travel visa-free to all of Europe's 26 Schengen
countries. It offers the fastest Permanent Residency and Citizenship processing time
among all other immigration programs. Here are the key points:
KEY POINTS
– Affordable Real Estate Investment of Euro 280,000 (Minimum)
– Short stay requirement per year of 7 days (or 14 days within 2 years)
– Inclusion of Family Members – children up to 26 years and dependent parents
– Visa-free travel within Schengen while living in Portugal
– Quick path to Citizenship – Can be achieved within *5 years (based on individual situation)
– One visit to Portugal is required to get the Residence Card
– Residence Card can be obtained within 6 months

BENEFITS OF LIVING IN PORTUGAL AS A PERMANENT RESIDENT
– Mediterranean climate with hot summers and mild winters
– Outstanding quality of life – Family-friendly, relaxed pace of life with high leisure options
– Low cost of living – One of the best value locations in Europe
– Modern healthcare system – Available free of charge at public hospitals
– High-quality education – With degrees recognized in EU
– Safety and Security – Low crime rate, friendly and welcoming people
– Rich and diverse culture with a fascinating history
– Beautiful and charming country – Best for entertainment and recreation
– Tax benefits for residents – Non-Habitual Residence (NHR) tax status
– Real estate can be leased out to earn rental income and sold after 5 years
– Perfect place for retirees and digital nomads
– English language is widely spoken

Watch our webinar to find out more.
Find out more information about citizenship by investment in Portugal !