Toggle form
Personal information & Eligibility criteria
Top Cities to live in Canada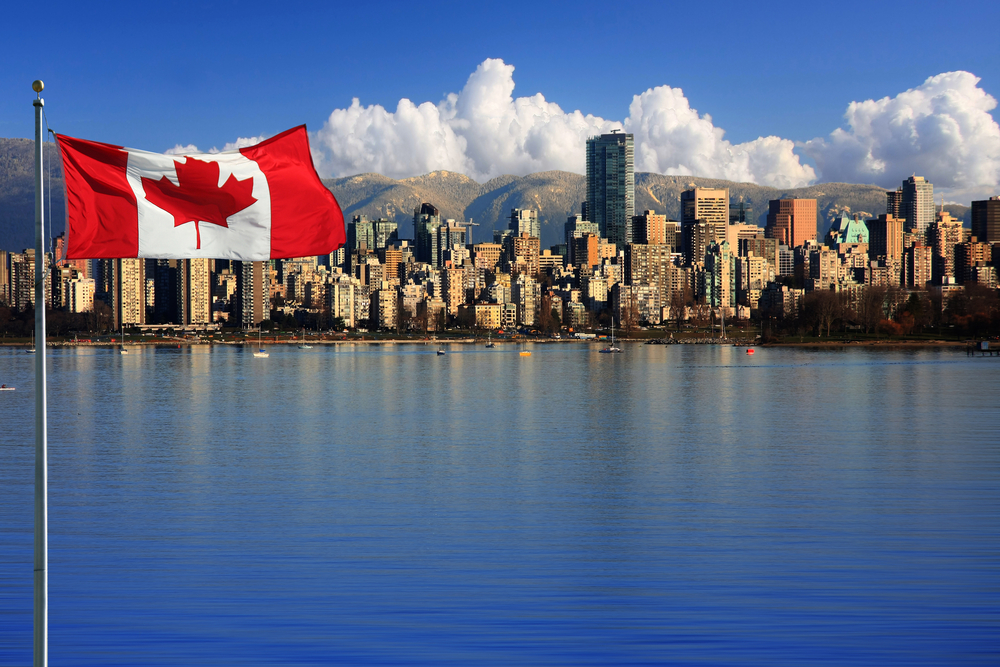 If you ever thought of moving to Canada, here are the top cities where you can live in and build a life:
Toronto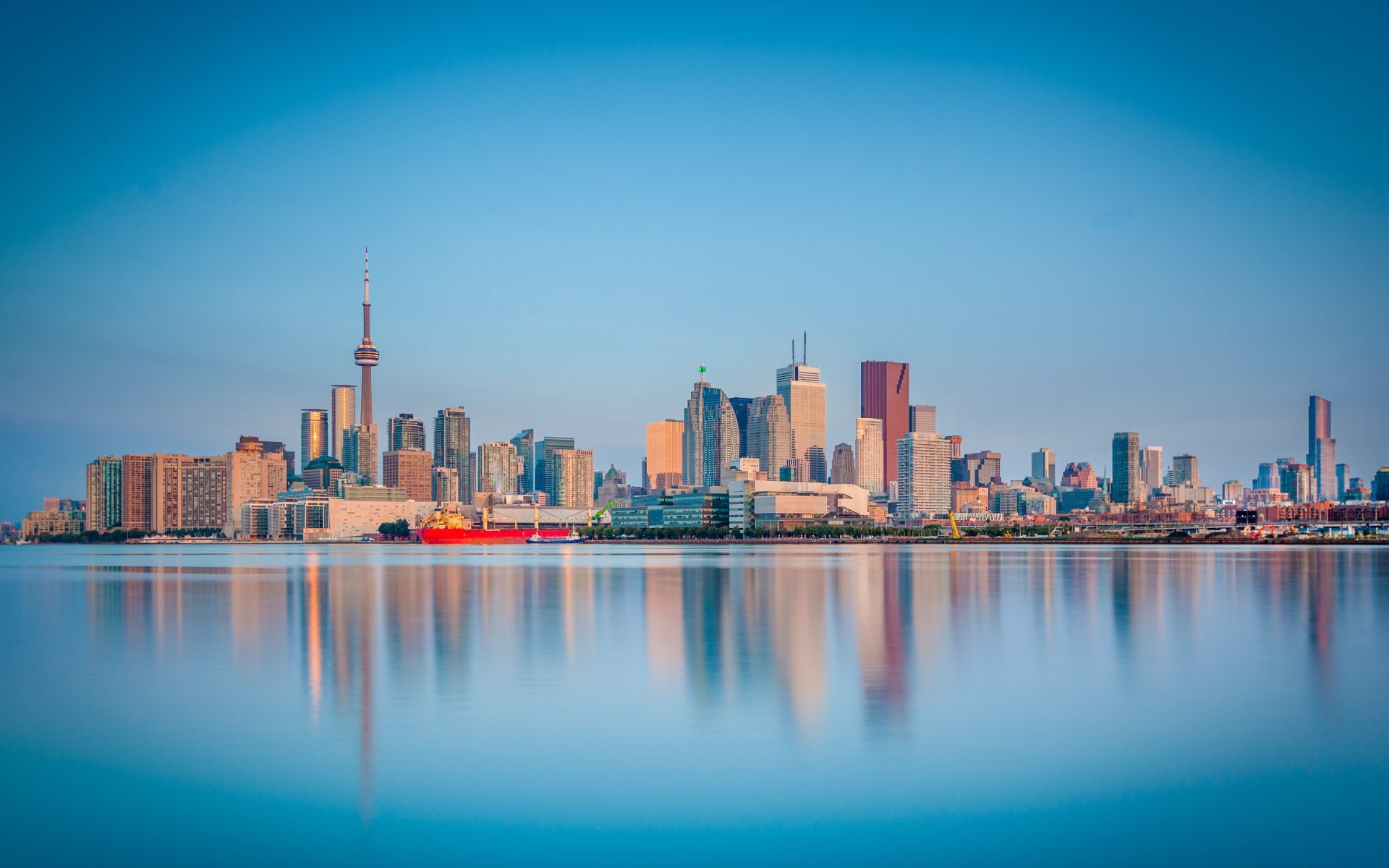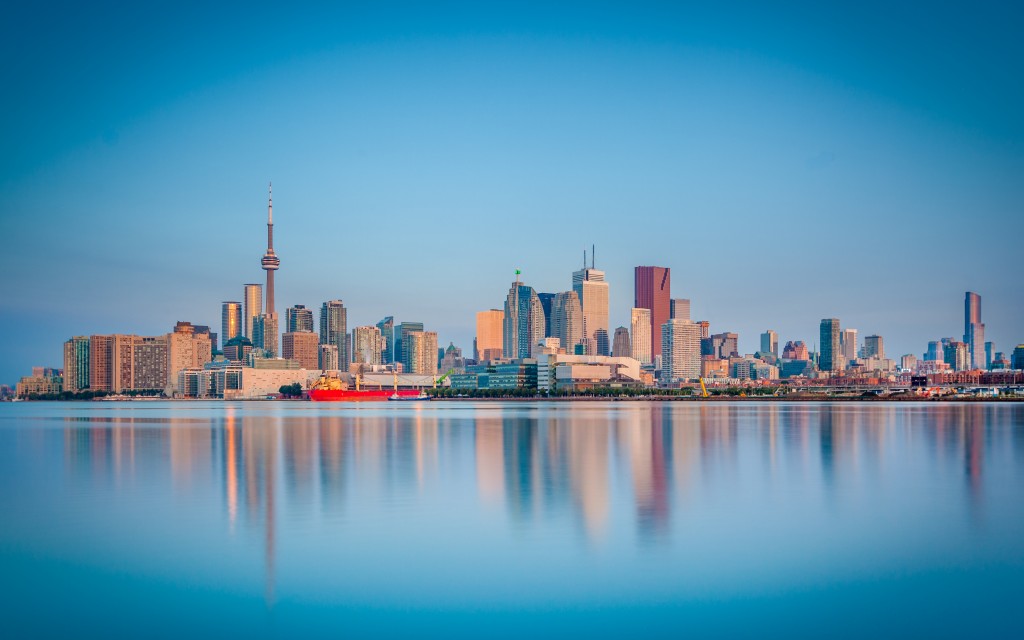 The largest city in Canada and arguably the best-known, Toronto is not the country's capital (Ottawa is), but it is the Ontarian. Like a more civilized, clean-cut New York, Toronto has its skyscrapers downtown, glitzy shopping in Yorkville and Bohemian districts in Queen Street West. It is also home to the CN Tower, once the world's tallest, at 1,815 feet.
Toronto is fun. With classy restaurants and top-notch theatre, opera, museums and art galleries, there is plenty to see and do. The thrusting skyscrapers downtown reflect the city's status as Canada's financial hub, but after hours, business folk swap suits for shorts and head outside. That is in the summer, of course; in winter, they pull on parkas and ice skates.
Toronto is now North America's fourth-largest city, including some 200,000 students and a multi-ethnic population representing 200 nations. Not surprisingly, the food scene ranges round the world – but the best chefs follow the mantra "fresh and local", with a focus on Ontario produce.
At any time of year, there are festivities. The most star-studded annual event is the annual Toronto International Film Festival (September 10-20; tiff.net). Nearly 40 years old, it draws Hollywood idols and thousands of fans. But there are stars here year round, thanks to a flourishing film industry. The city has provided the backdrop to blockbusters, such as Chicago and X-Men.
With an efficient and well-priced transport system, getting around is easy. And a short drive away is Niagara Falls, south of Lake Ontario, and, north of the city, "Cottage Country", with its lakes and log cabins.
Two decades ago, Canadians would have laughed at the idea of the provincial capital is a fun place to visit. Today, the city – one of North America's safest – hosts visitors from around the world. Of all the souvenirs they take home, the best are probably memories of Torontonians themselves: welcoming and ready to help.
Spring, when it comes, is warm (17C on average in May), but summers can be hot (25C in July, August). Autumn, fall in North America, is particularly attractive with warm days (September 20C, October 16C), cool evenings and brightly-colored foliage. At the first sign of sunshine, Torontonians head for their favorite patios (outdoor terraces) where they can drink a beer, watch the world go by and store up the warmth. Winters can be extremely cold. Definitely, one of the top cities to live in Canada.
Montreal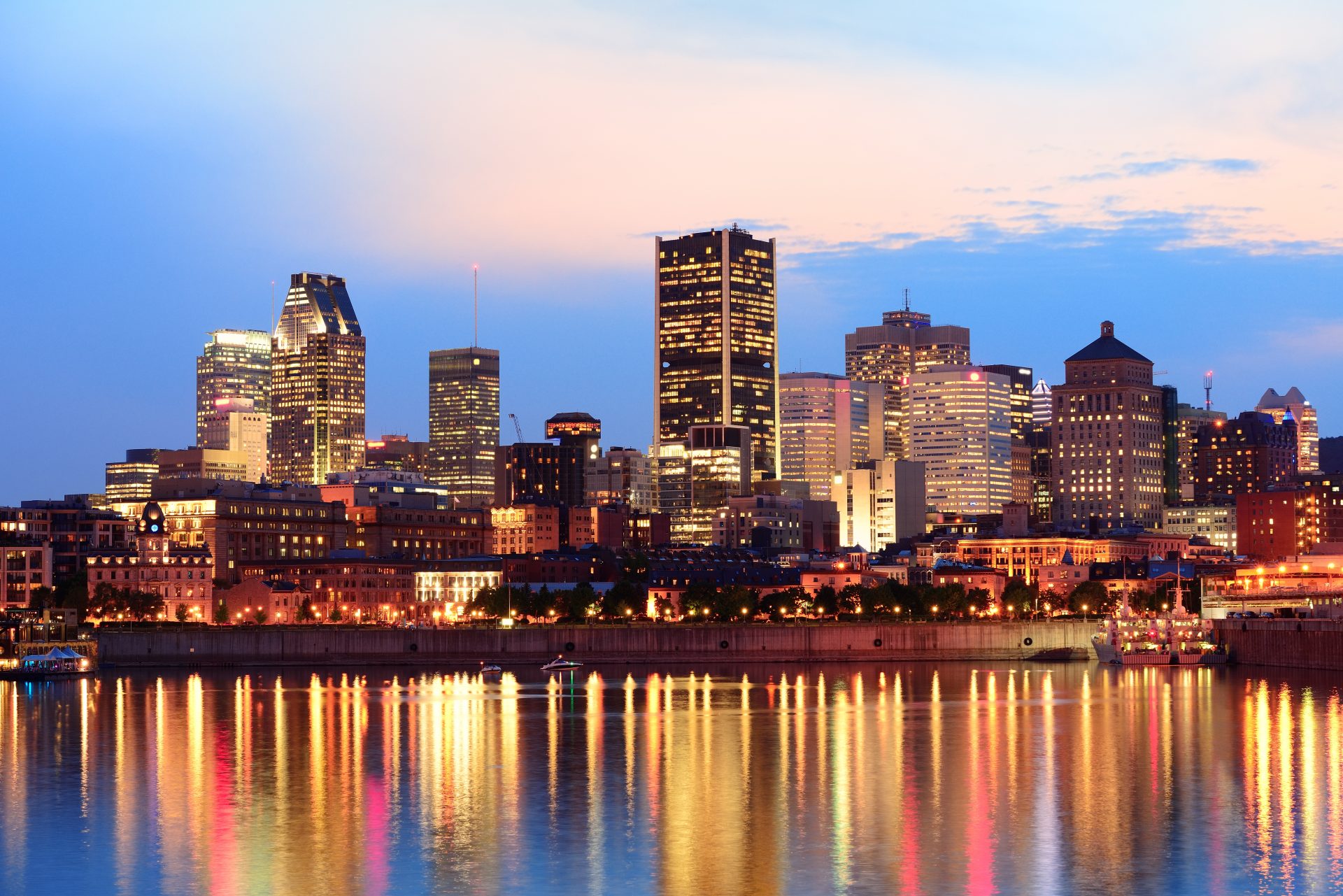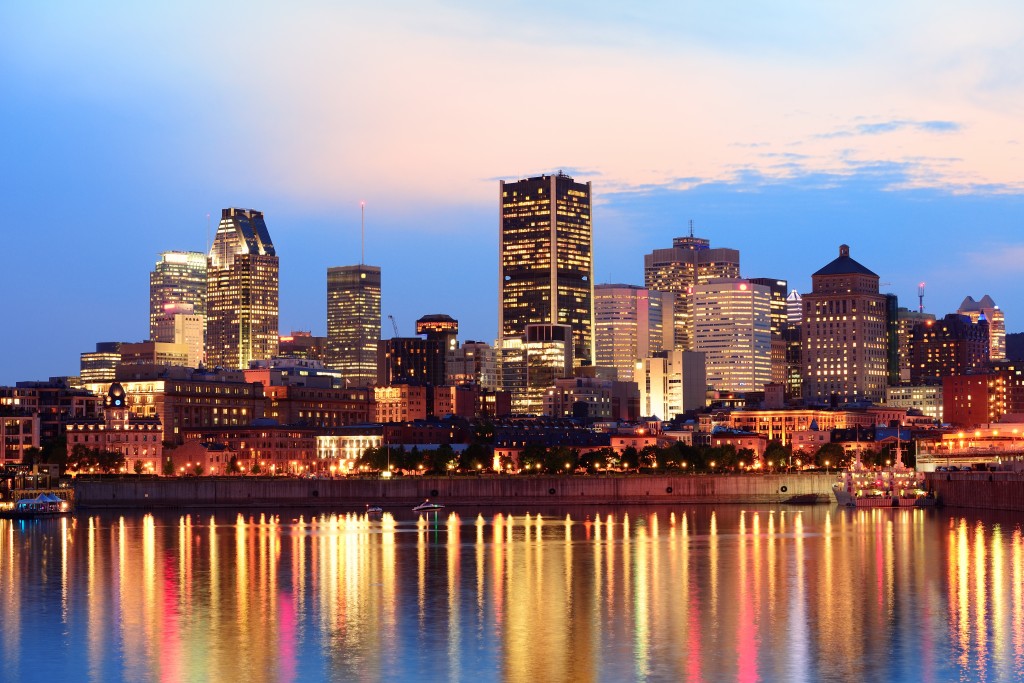 The second largest city in Canada, Montreal is France's home away from home. The city's official language is French and spoken by more than half of the population. The French also lend the city its sense of cool, laid-back chic. It is a cultural hub with more than a few international flavors and boasts more than 100 festivals a year.
Montreal is actually a pretty cheap city to live in, whether you opt to rent or buy. For a central apartment, you can expect to pay between $600 and $800 for a two-bedroom, or $250,000 for a quality one-bedroom condo – which, when compared to Vancouver or Toronto, is extremely cheap! Electricity costs are also pretty low, thanks to our powerful hydroelectricity installations in the Bay James up north. This especially comes in handy when winter decides to send -35 degree weather our way
Montreal is a wonderfully bilingual city (some might argue that it's a bit too Anglophone, but that's a whole other debate). Most people speak both French and English fluently, and will be happy to assist you in both languages. While there is a law that protects French and makes sure that French is predominant on everything (bill 101), English is never very far, making it easy to understand for all non-French speakers. Montreal IS the perfect place to learn French!
Montreal is filled with charming, quaint, tree-lined streets, which make for great-looking neighborhoods. But these streets are also very narrow, and can only fit a few cars. Finding a parking after 7PM anywhere on the island will be a challenge that is for sure! There are two types of parking spaces: public, and vignettes. Both will be a piece of work, because there are only a handful of them (again with the cute narrow streets).
Vancouver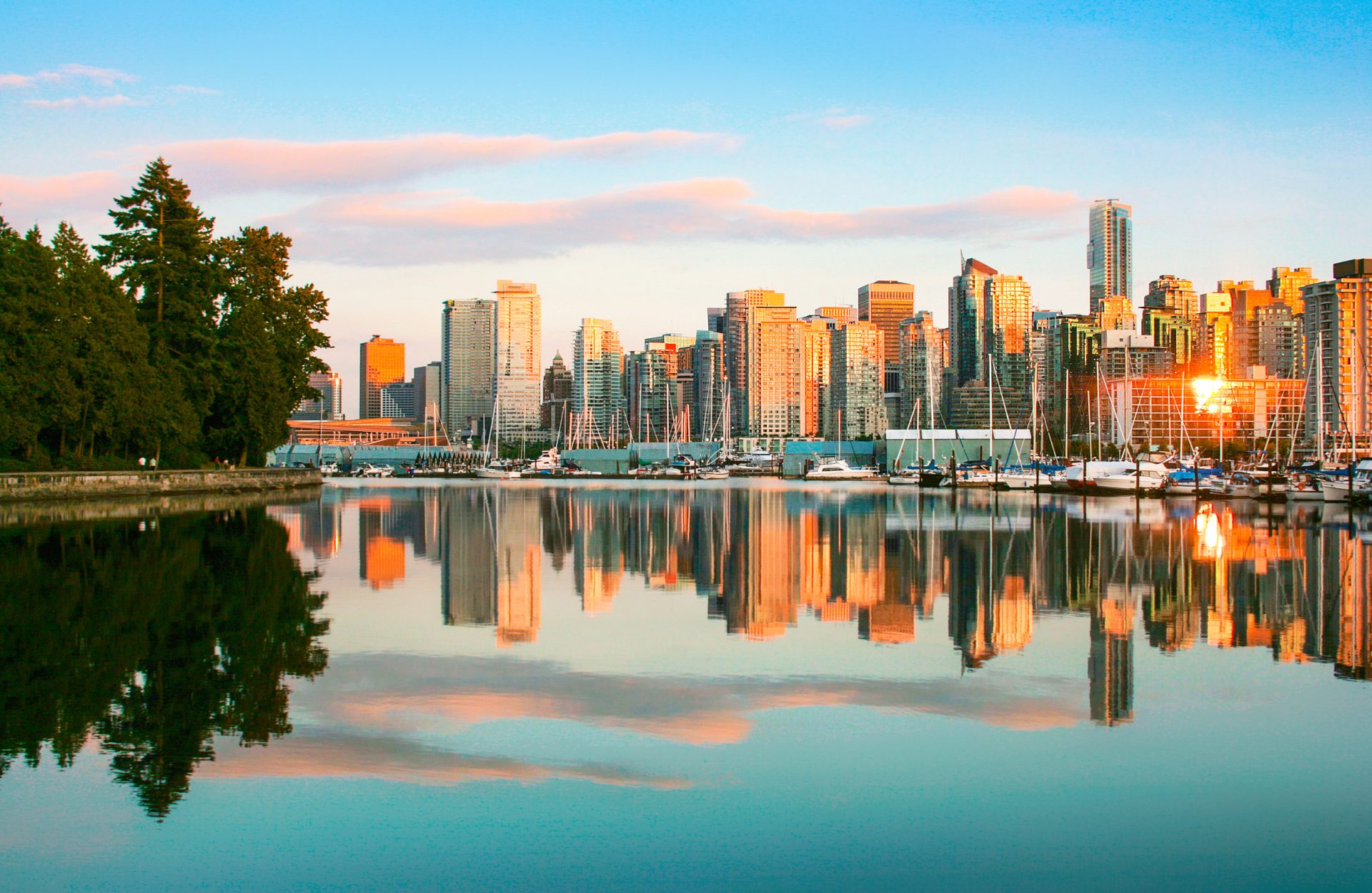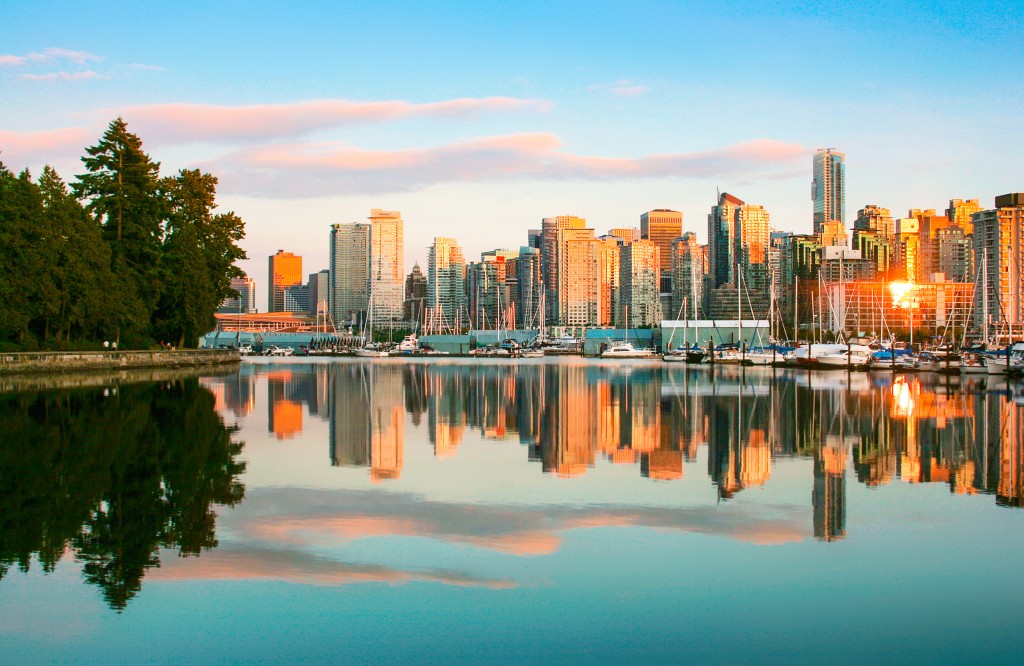 Vancouver was recently voted the most livable city in the world by the Economist Intelligence Unit for the second year running. Its scenic location near the ocean, tucked up against the North Shore Mountains, makes living in Vancouver an ideal base for year-round exploration. The city's coastline offers amazing views and great beaches, while the mountains offer hiking trails and snow sports. Living in "Beautiful British Columbia", world renowned for its natural beauty, is ideal if you have an appreciation for the outdoors. If you don't possess this appreciation right now, then we promise that you will develop one over time. Vancouver is special because of its setting, surrounded by the sea and the mountains. It has a diverse, metropolitan area, yet you're always close to nature, providing its inhabitants with the best of both worlds. Living in Vancouver is a fantastic experience, certainly one of the top cities to live in Canada.
The summer months are typically dry, but temperate and rarely uncomfortably hot. In contrast, most days during late fall and winter (November to March) are rainy. This regular rain can be one of the toughest things about Vancouver. The upside to the dreary rainy winter weather, however, is that when it's raining in the city, it's usually snowing on the nearby mountains, allowing for snow sports like downhill and cross-country skiing, snowboarding and snowshoeing.
Getting started can be tough due to the relatively high cost of living in Vancouver, but this resource is aimed at saving you time and money by pointing you in the right direction. A premium is charged through rent and other living costs for the luxury of living in this beautiful city. Vancouver is amongst the least affordable cities in which to live in Canada, with the highest housing prices in the country. Come see our city and you will understand why so many people are willing to tolerate the high cost of living in Vancouver. Tipping is standard practice in bars/restaurants (typically 15-20% of the bill). A pint of beer will cost you anywhere from $5-8 dollars depending on location and whether it's a local or imported brand.
Vancouver is one of the most ethnically diverse cities in Canada. Being such a new city (it was established in 1886) means that there is no real sense of ownership and therefore everybody just gets along. People of English, Scottish, Irish and German origins were historically the largest ethnic groups in the city. Over the last 30 years, however, immigration has dramatically increased, making the city more ethnically and linguistically diverse. For example, 52 per cent of residents do not speak English as their first language and almost 30 per cent of the city's inhabitants are of Asian backgrounds.
Quebec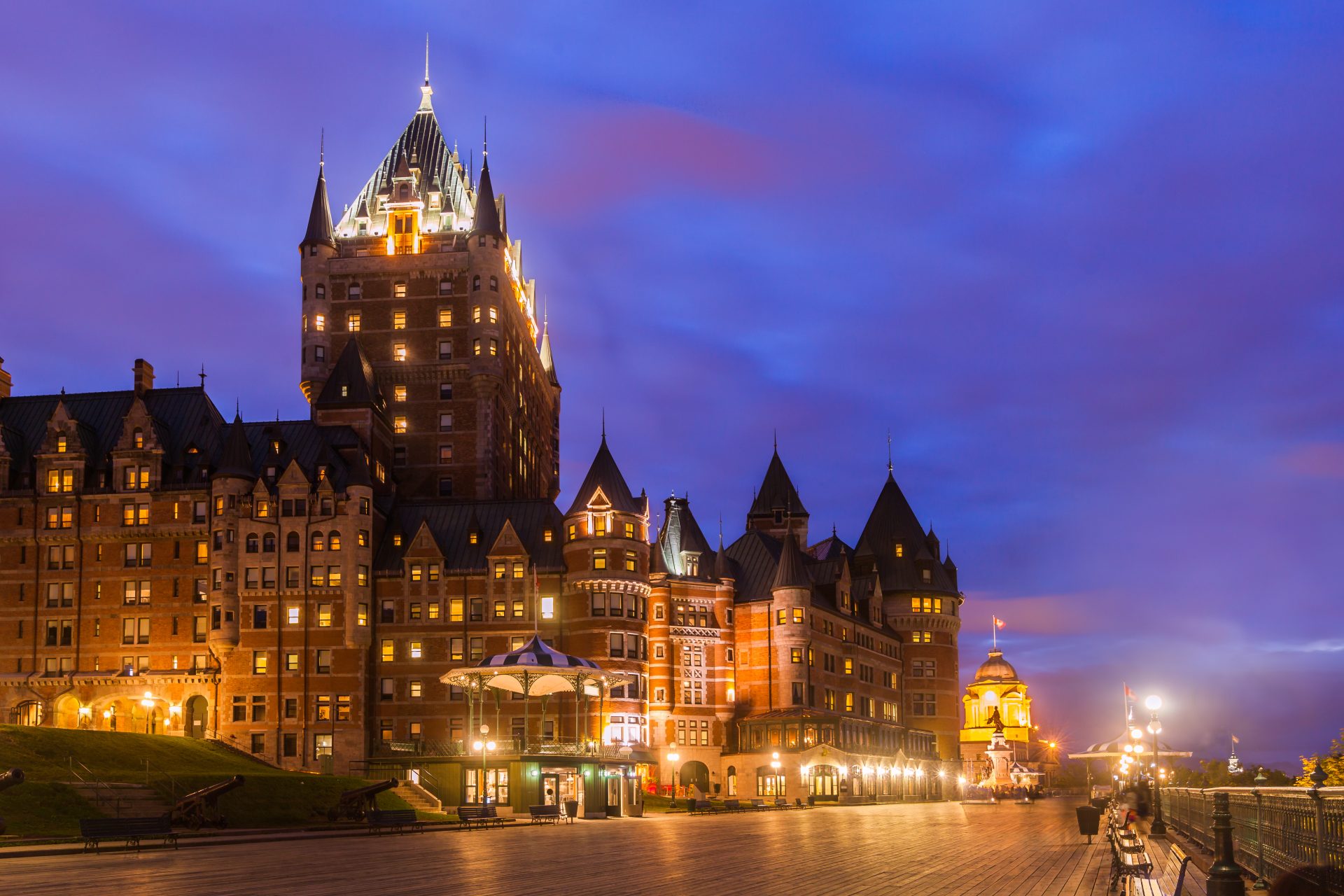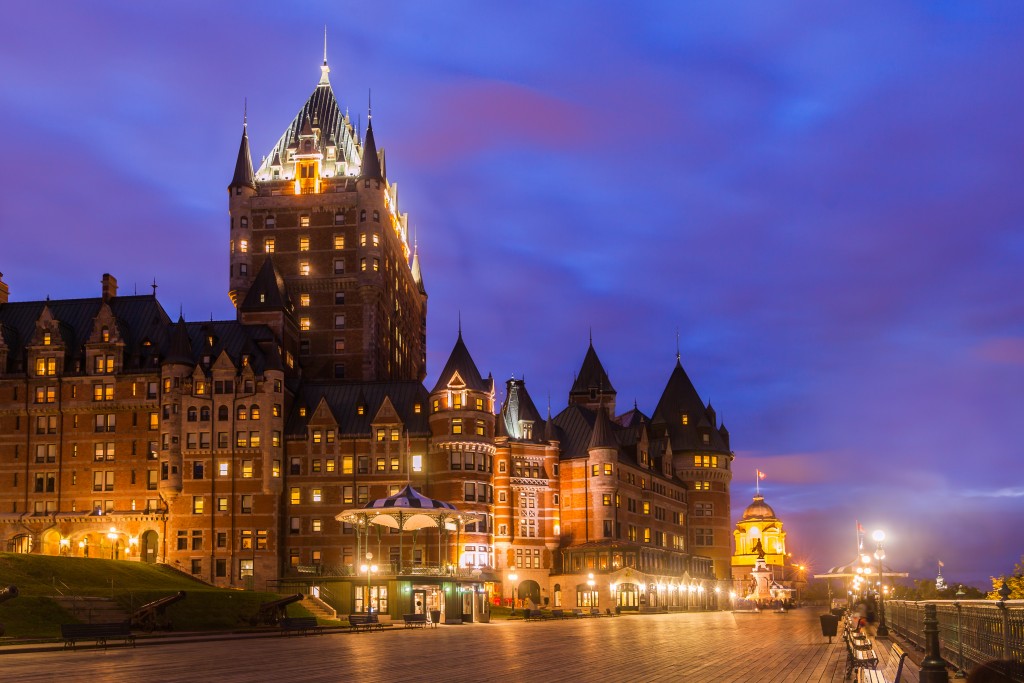 Known as "la belle province" (the beautiful province) to its locals, Quebec is Canada's largest province and home to approximately 7,900,000 people. Quebec is a vibrant multicultural province, often earning it recognition as the "Europe of North America". Quebec is also famous for its vast forests, rolling hills and countless waterways. In fact, Quebec has over 1,000,000 lakes and waterways, giving it more fresh water than any other province.
Quebec is the only province whose official language is French. The capital city is Quebec City, with a population of 700,000. Quebec is also home to Canada's second largest city, and the second largest French speaking city in the world, Montreal (3.8 million people). Other major cities located in proximity to the St. Lawrence river, which links Quebec and Montreal to the Atlantic Ocean, include Hull-Gatineau (314,000), Trois-Rivieres (152,000), Sherbrook (202,000), and Chicoutimi-Jonquiere (158,000). Since the end of World War II, more than 700,000 immigrants from over 80 countries have moved to Québec, particularly to the multicultural city of Montreal.
Québec's economy is highly industrialized and diversified. The province itself is home to the 38th largest economy in the world. Quebec's advanced manufacturing sector produces a wide variety of products for export, such as air traffic control equipment, software, subway trains, helicopters, compact disks, air purifiers and toys. Montreal, the province's commercial capital, has developed competitive industries in space and aeronautics, pharmaceuticals, telecommunications, energy, transportation and finance. Montreal has also recently become known for its software startups, most notably with regards to the entertainment industry, and the city follows Vancouver as a major movie production center.
The average gross earnings for a family in Quebec is approximately $70,480 per year, just below Canadian average. The province boasts an excellent standard of living, however, thanks to its affordable cost of living. The cost of living in Quebec is lower than the Canadian average, particularly when it comes to housing. Montreal is among the most affordable major cities in North America.
While Quebec has among the highest provincial personal income tax rates at over 24%, these taxes translate into publicly provided services that contribute to high standards of living in the province. Publicly provided healthcare and heavily subsidized transportation, post-secondary education and cultural services ensure that all Quebeckers have access to these important contributors to a high standard of living. The federal tax rate is abated in Quebec, and the minimum wage is at $10.15/hr.
Quebec has one of the most affordable housing markets in Canada. The average cost of a home in Montreal is $327,000, despite the city's large population. This makes Montreal one of the most affordable cities of its size in North America. Even more affordable, houses in the capital Quebec City cost on average 35% less than they do in Montreal. Despite a recent real estate boom, rental costs have remained considerably lower than in Toronto and Vancouver. The average percentage of household income taken up by ownership costs, however, is slightly above the Canadian average, ranging from 27-42% depending on the type of dwelling in question.
Halifax, Nova Scotia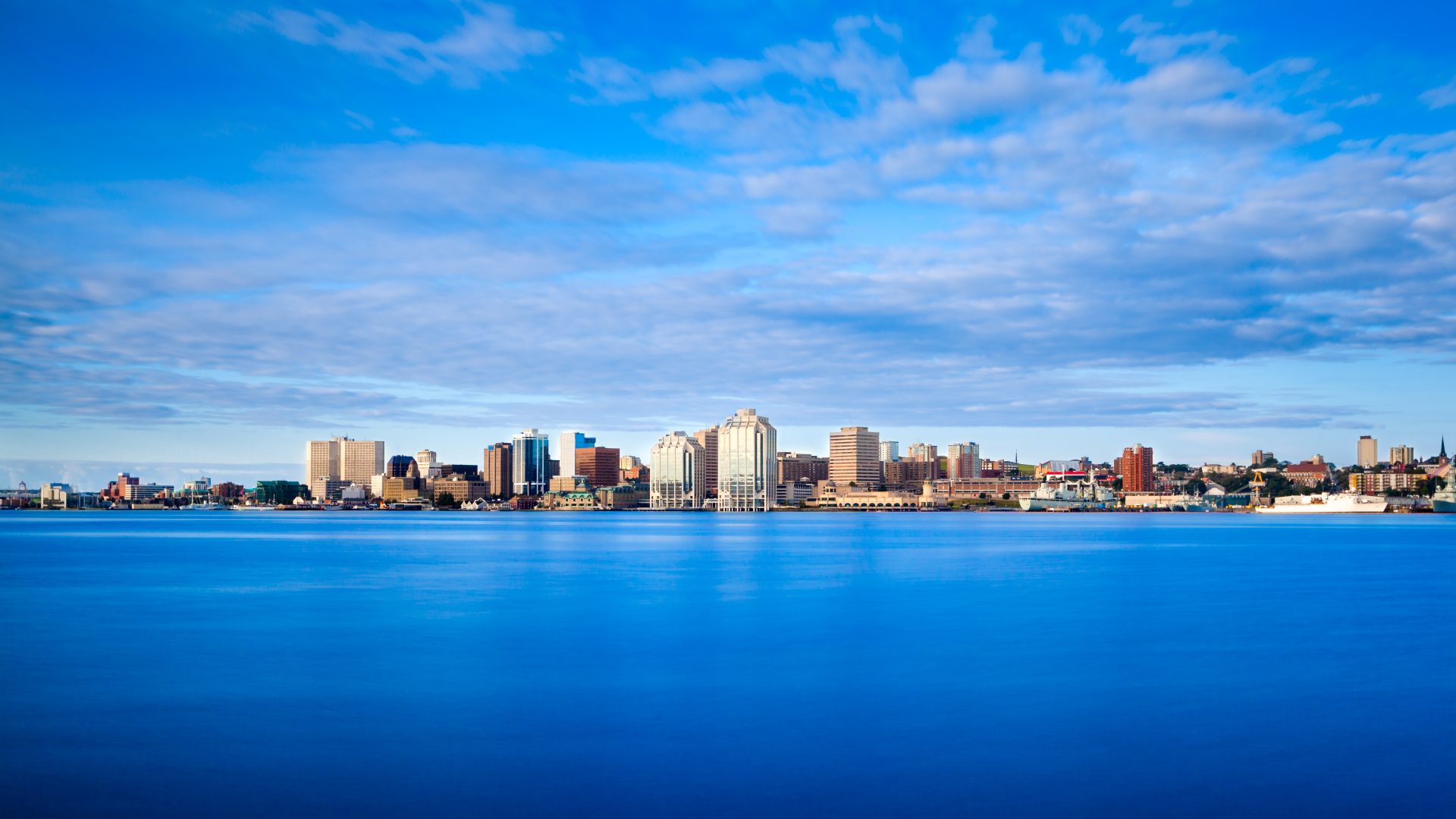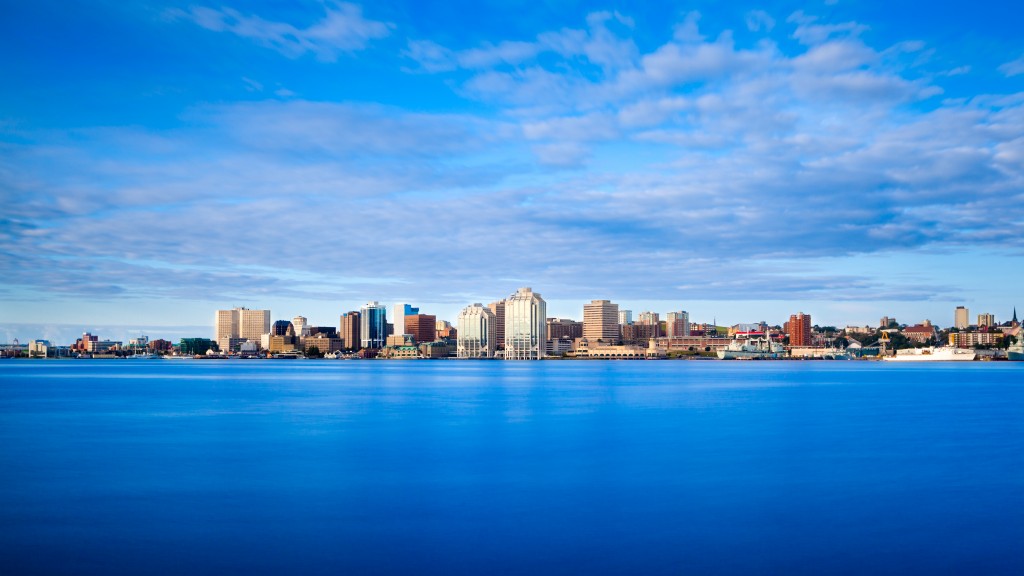 Nova Scotia is one of the four Atlantic provinces of Canada and home to approximately 1 million people. Located on Canada's east coast Nova Scotia includes over 3800 coastal islands in addition to the mainland territory. Halifax, with a population of approximately 400,000 people, is Nova Scotia's largest city and its political capital. It is also one of Canada's major seaports and a main gateway to the Atlantic Ocean. During the times when the majority of people arrived in Canada by boat, Halifax's Pier 21 was the place where nearly all immigrants to Canada first landed, making it an important landmark for Canadian immigration. Nova Scotia is also home to Canada's oldest African-Canadian community.
Nova Scotia has a very diverse economy that includes key industries in the service, manufacturing and mining sectors. Traditionally however, many Nova Scotians made their livings from fish stocks of the Scotian Shelf. Unfortunately, however, fish resources have become endangered in recent years, heavily impacting the fishing industry. Recently, the Nova Scotia economy has successfully diversified, and with retraining many of those who had lost their jobs with the decline of the fisheries have found new jobs in Nova Scotia's growth industries. In September of 2006 this job boom drove unemployment in the province to below the Canadian average for the first time in the province's history. Halifax, as a large urban centre, is home to a wide array of industries and professions and its economy is the heart of Atlantic Canada.
Nova Scotia has a highly developed forestry sector as well as a highly specialized commercial agriculture sector. The mining sector is dominated by coal production. The province of Nova Scotia has recently begun to benefit from the extensive exploration of offshore oil and gas has been undertaken in the past decade
The average income for Nova Scotia ranks highest among the Maritime Provinces. The average family income for Nova Scotia is $47,100 (which is near the national average). For the Halifax area, the average family income is a fair bit higher, at $58,262, well above the Canadian average. The cost of living in Nova Scotia is quite affordable, falling below the Canadian average. Combined with the comfortable average salary in the province, Nova Scotia can afford a very high standard of living. Provincial personal income taxes are approximately 19.25%.
All Canadians under the age of 20 are entitled to free education up to the end of secondary school provided by the provincial government. The Government of Nova Scotia provides free schooling from kindergarten through to Grade 12, available in both English and French. As with other jurisdiction in Canada, all teachers in Nova Scotia's public education system have a university degree as well as advanced teacher training, and follow a provincially regulated curriculum.
Nova Scotia has a comprehensive system of post-secondary education consisting of universities, technical colleges and apprenticeship programs. Nova Scotia's undergraduate tuition fees are the highest of any province, at an average of $6,281.
Halifax
Halifax is not only the capital of Nova Scotia; it acts as the economic centre of Atlantic Canada. The population of Halifax is approximately 375 000, though the surrounding area brings this figure even higher. The city has long been one of Canada's most important ports, especially for new immigrants. Halifax's Pier 21, which was once the main entry point for newcomers to Canada, has now been converted into an immigration museum.
As a provincial capital, government at all levels is an important employer in the Halifax area. Along with the offices of the Government of Nova Scotia, Halifax is also home to central operations for Canada's Department of National Defense. Another major employer in the city is the Port of Halifax, one of the most important ports in North America. Like any major modern city, Halifax is home to a thriving service industry and many private sector companies. With the growth of offshore oil and gas production, this sector is becoming an increasingly important employer in Nova Scotia.
Halifax is a center for learning and culture. The city is home to a large number of post-secondary institutions, most notably Dalhousie University and Saint Mary's University. The community enjoys a bustling artistic scene, one which produces some of Canada's top musicians. Halifax has also grown recent years as a center for film production.
Saint John, New Brunswick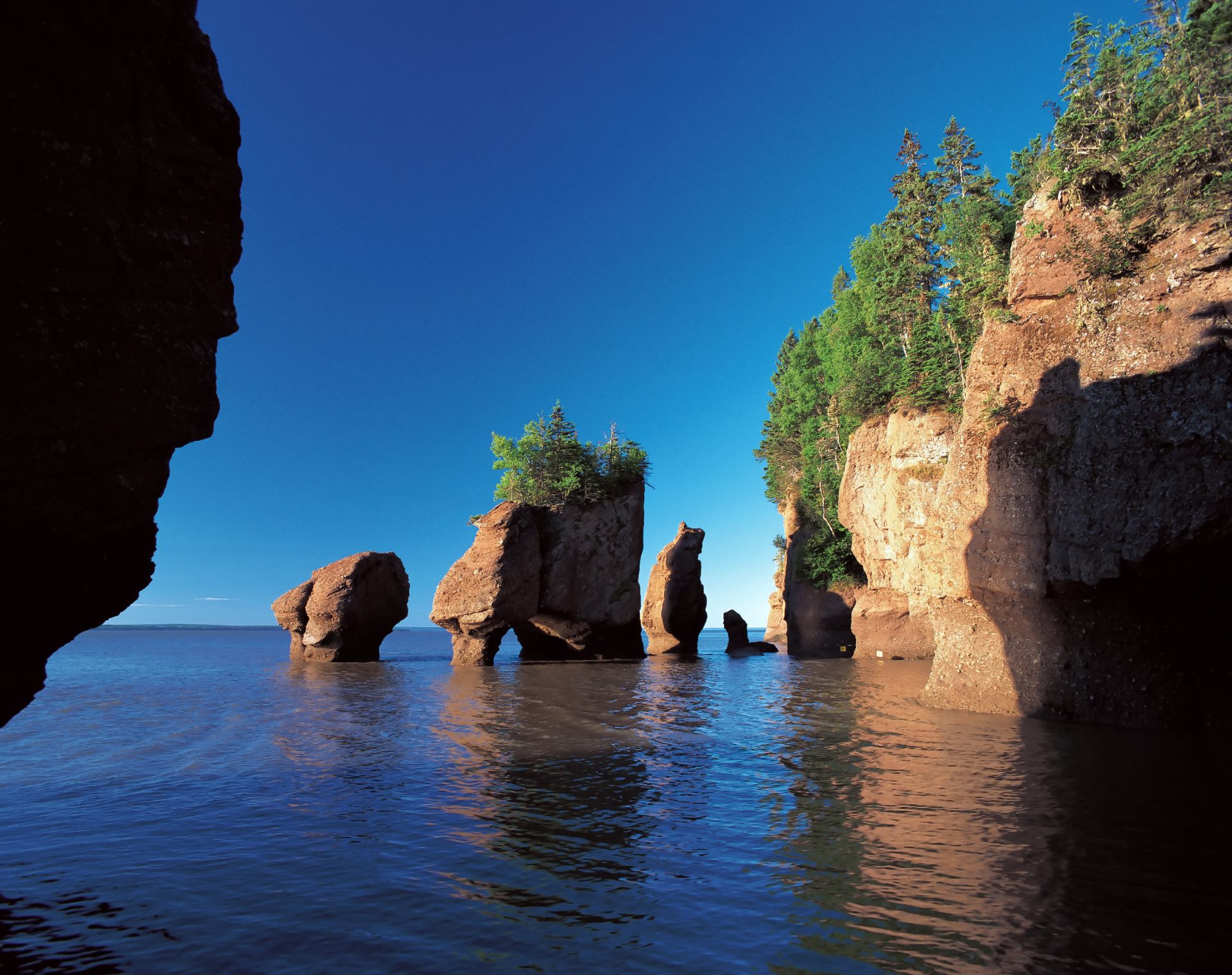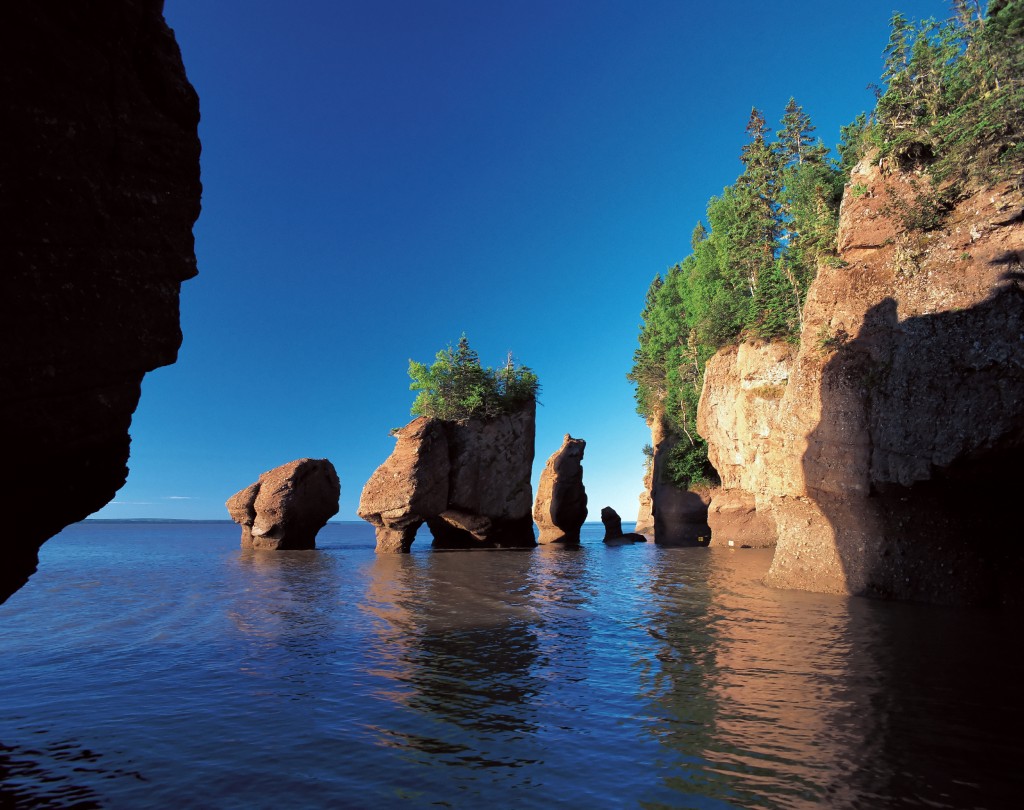 New Brunswick is one of the four Atlantic provinces of Canada and home to approximately 760,000 people. The province is home to wide areas of unspoiled nature, as forests occupy 85 percent of the province's land mass. New Brunswick also includes a number of coastal islands.
Saint John is New Brunswick's largest city (130,000), while Fredericton serves as the capital. The city of Moncton is another important urban center. New Brunswick is officially bilingual; as approximately 35 per cent of the population speaks French as a first language, while most of the remaining 65 per cent are English-speaking. While Canada as a whole is bilingual, New Brunswick is the only constitutionally bilingual province in the country
New Brunswick has a wealth of natural resources that have traditionally formed the center of its economy. With its vast forested areas, lumber products are one of the main exports. Today New Brunswick is home to a modern service-based economy, with major financial and insurance industries leading the way. Canada is investing heavily in encouraging these modern industries in New Brunswick to combat unemployment in fishing and agriculture, which also remain important industries. Many companies are choosing to locate customer service and technical support call-centers in New Brunswick because of the availability of bilingual staff. Information technology has also been a growth industry for the province, and a major beneficiary of investment.
The low cost of living in New Brunswick means that even with a modest income, one can live a comfortable life. Average income for New Brunswick families is $46,400, among the lowest in Canada. At the same time, housing costs, as well as the cost of living generally, are among the lowest in Canada. The cost of heating, power and food are likewise substantially lower than almost anywhere in North America. The mandatory minimum wage is currently at $9.00/hr. Provincial personal income taxes are slightly above the Canadian average.
New Brunswick is known for having a strong sense of community. Residents have built a warm and friendly atmosphere to the province that is recognized instantly by visitors. The province is also very safe, with crime rates far below the national average.
In Canada, all citizens and permanent residents under the age of 20 are entitled to free education through the end of high school through the public school system. As a bilingual province, New Brunswick has parallel public school systems in both English and French for kindergarten right through to Grade 12. New Brunswick is a leader in the use of technology in education, and 100% of its public schools have internet in the classroom. The province has the highest high school graduation rate in Canada at 86%.
Ottawa, Ontario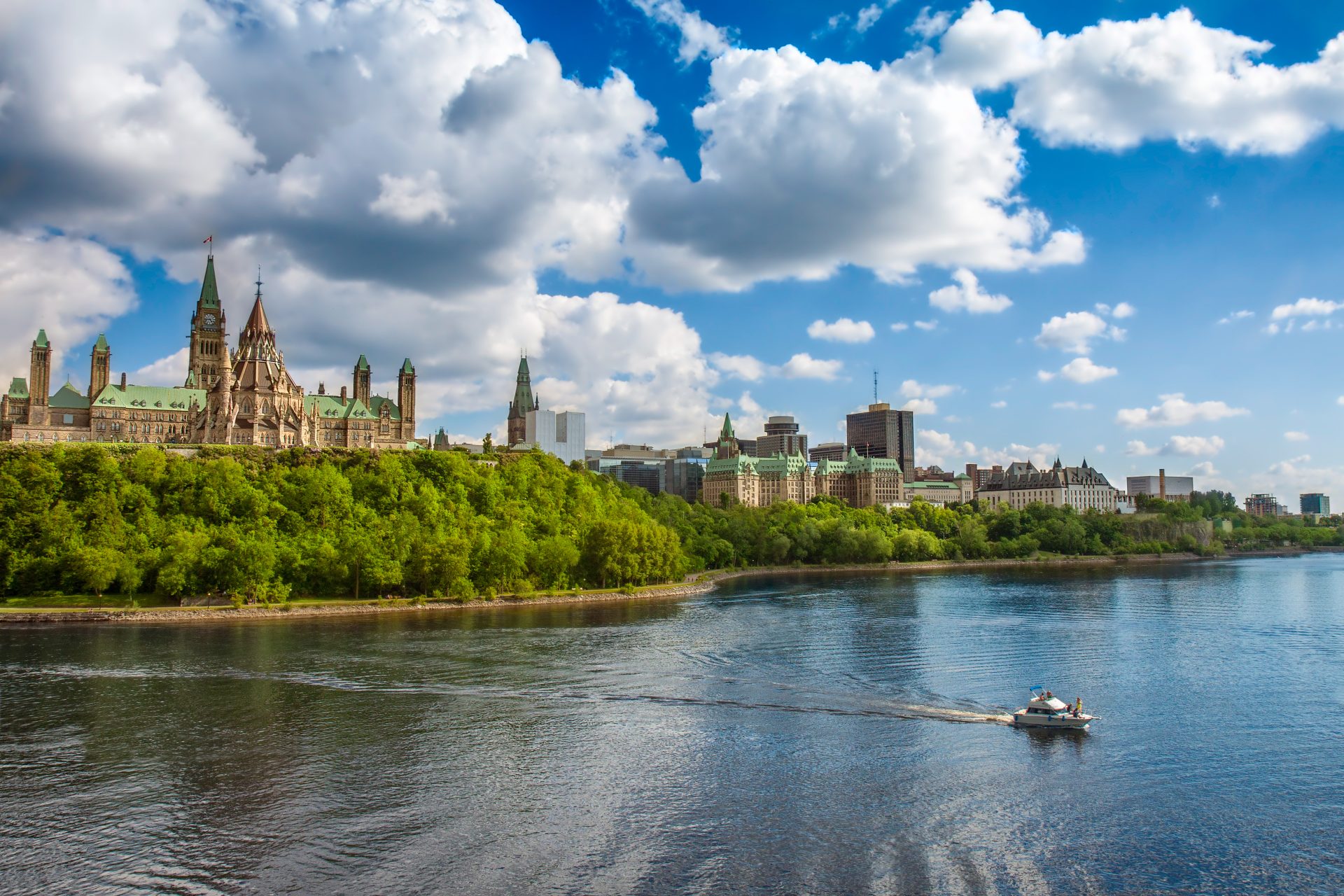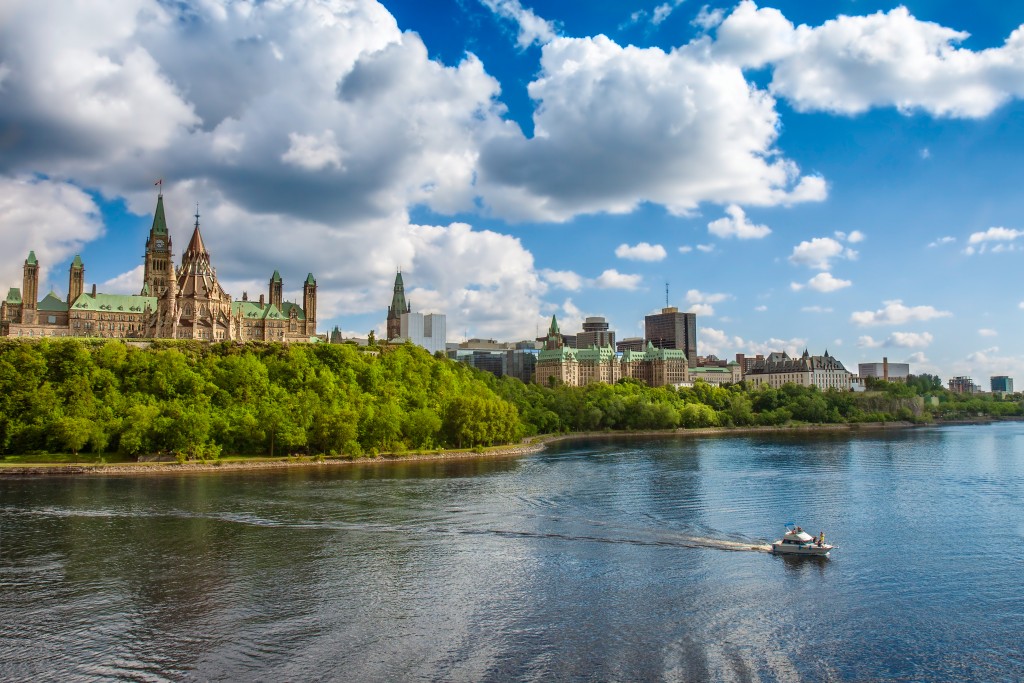 Ottawa is in eastern Ontario, on the Quebec border. You can see in the interactive Google Map (left) that Ottawa sits on the south side of a large river – the Ottawa River. Ottawa is also cut in half by the Rideau River.
Ottawa covers a large area: 2,779 square km, while the National Capital Region's is 4,715 square km.
On the north side of the Ottawa River is the mainly French-speaking city of Gatineau, Quebec. The city is about four-and-a-half hours by car from Toronto and two hours from Montreal.
Ottawa performs well in 'quality of life' type surveys.
It has a reputation for being a quiet, reserved, family oriented city, where people are laid back, more into sport than nightlife.
Mercer ranks Ottawa as the second best city in the Americas, behind Vancouver, and fourteenth best in the world.
The Economist Intelligence Unit, who also do this type of survey, did not include Ottawa in their city rankings.
The Canadian Magazine MoneySense rates Ottawa as Canada's best city. Ottawa scores strongly in most categories and particularly strongly for new car ownership, population growth, low crime, number of doctors, and culture.
Healthcare in Ottawa is high quality. It may be difficult when you first arrive to get a family doctor in Ottawa. Fortunately, there are walk-in medical clinics where you will be seen reasonably promptly.
At the beginning of 2014, Ottawa's unemployment rate was 6.7%, slightly lower than the Canadian average of 7.0%.
Where are the Jobs?
Almost 12,000 new jobs were created in the Capital Region in the 12 months to June 2014.
By far the biggest employer is the Federal Government, with 135,000 employees, including the military.
The local council employs about 20,000 people, and there are the usual jobs in hospitals, schools, universities, tourism, and shops that you would expect from a capital city.
Ottawa has a very highly educated workforce. Over half of its people are graduates, and Ottawa has the highest concentration of scientists, engineers and PhDs in Canada.
The city has two main universities: University of Ottawa and Carleton University.
The University of Ottawa is a bilingual university with about 35,000 undergraduate and over 6,000 post-graduate students.
It advertises a 97% employment rate for its graduates, and it has Canada's largest law school.
In the Times Higher Education 2012-2013 Rankings of Universities around the world, The University of Ottawa was placed 171, up from position 185 the previous year.
Kingston, Ontario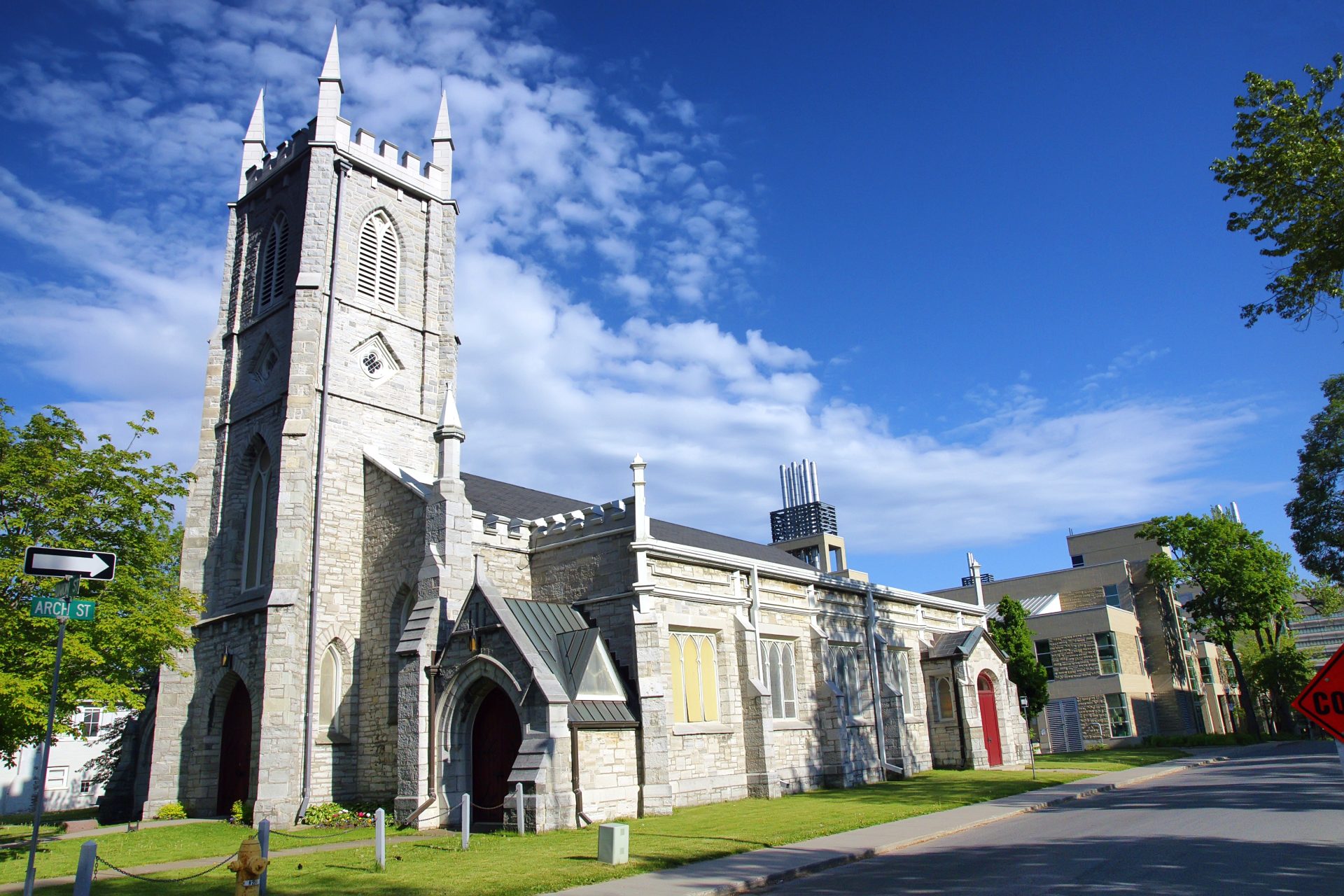 History on the waterfront, cutting-edge culture, leading research and hot new start-ups: Kingston, Ontario, is a place where history and innovation thrive.
Kingston has consistently been ranked an outstanding Canadian city. As one of the top three most sustainable cities, six best places to live and boasting one of the best three downtowns and five best Canadian cities to golf in, Kingston´s charms are setting national standards.
Kingston has gained international recognition with UNESCO´s newest World Heritage Site designation of the Rideau Canal, Fort Henry National Historic Site and Kingston fortifications and our region is also recognized as part of the World Network of Biosphere Reserves with the Frontenac Arch Biosphere.
Kingston resident's benefit from a superior quality of life. The citizens benefit from short commute times to work, great walking and bike paths throughout the downtown and along the waterfront, access to lakes and cottage country within a 20-minute drive and exceptional nightlife activities with great dining options, dancing, live music and theatre.
Kingston's innovative and creative culture is the foundation of a stable economy. The Kingston economy has a broad base, with both public and private enterprises. Whether you are a newcomer to Canada, a new graduate, or a veteran of the workforce, Kingston has many ways for you to advance in your chosen field, or begin a second career.
Kingston is a comfortable family-oriented place in which to live. It offers a wide range of housing options from old, historic neighborhoods of limestone and brick to downtown loft living to modern subdivisions with the same shopping amenities found in larger centers. Spacious country and waterfront living is also possible within 10 minutes of the main commercial areas of the city.
Housing prices in most categories compare favorably with the rest of Canada. At the end of 2007, the average selling price of a new single-detached home was $284,672. The cost of a similar home in Montreal was approximately $309,300; in Toronto $500,000; in Victoria $615,000; and, in Halifax $334,000.
Remember that we are here to support your dream of starting fresh in a new country. If you have any questions and think that an Immigration Consultant in Dubai can help you feel free to visit our website and leave us a message. Live better. Start now.