Toggle form
Personal information & Eligibility criteria
Top 10 Reasons Why Canada is a Leading Migration Destination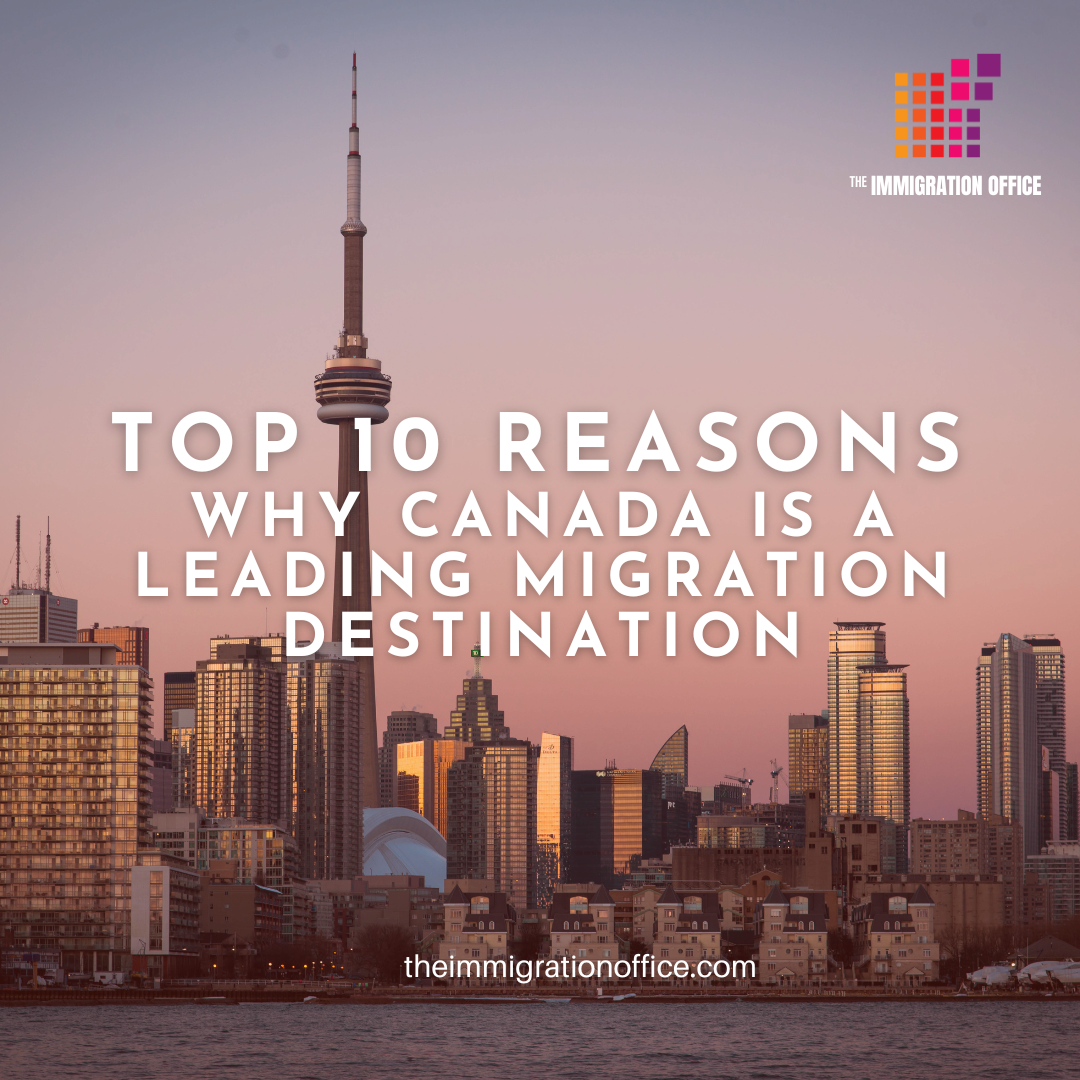 Are you planning to migrate to Canada? Or are you thinking about it but have not taken the first step yet?
Canada offers many great reasons for people to move there. From a safe and welcoming environment to exceptional education, Canada has it all. Tempted to pack your bags and start a new life in this country? Here are ten reasons why Canada is one of the best migration destinations for you.
1. Inclusive Multicultural Society
Canada is a multicultural country that celebrates diversity. It is one of the most ethnically diverse countries with a population of 38 million, more than 200 languages, including English, and a wide variety of cultures. This diversity makes it easier for new immigrants to integrate into society.
2. Free and Accessible Healthcare
With universal healthcare coverage for citizens and visitors alike, Canada's healthcare system ranks among the best in the world.
Access to essential medical treatments is considered a right. No Canadian citizen or permanent resident will be denied medical care because they cannot pay for it. Medical care includes doctor visits, hospitalization surgeries, prescription medications, home care services, and vision care for young patients up to 18 years.
3. One of the Safest Countries
Canada is a safe, peaceful, and tolerant country with a low crime rate compared to other countries. The fundamental rights of freedom of expression, religion, and equality for all people in Canada, including women, are all guaranteed. Additionally, discrimination based on race, religion, sex, or sexual orientation is prohibited in Canada. Therefore, whoever you are and wherever you are from, you are always welcome in Canada.
4. Strong and Stable Economy
One of the wealthiest countries in the world, Canada has a per capita GDP that ranks among the highest globally. Agriculture, mining, forestry, fishing, and manufacturing contribute significantly to the nation's economy, which also benefits from strong trade ties. It boasts one of the best banking systems in the world, with its banks consistently receiving "sound" ratings from international credit rating organizations. Pay is high compared to affluent nations like Australia or New Zealand, and unemployment rates are low.
5. World-Class Education
With the education system being one of the best in the world, every Canadian is entitled to quality education from kindergarten through college or university, as well as technical training programs, thanks to the free public school system and its regulations requiring attendance in school. More Canadians than in any other nation have access to higher education, with varied options available at reasonable prices.
6. High Standards of Living and Quality of Life
Canada is a terrific country to raise a family because of its high living standards and excellent quality of life. The country tops the list of best places to live in terms of quality of life, according to the United Nations Human Development Index (HDI). The high standard of living, safe environment with low crime rates, employment opportunities, exemplary healthcare system, and excellent education are all to thank for this. Moreover, it is a multicultural society where people of all ethnic backgrounds can coexist harmoniously.
7. Great Job and career opportunities
Canada provides a wide range of career opportunities with attractive pay to skilled individuals worldwide. Additionally, it enables foreign nationals to apply for Permanent Residency through several immigration schemes, including Express Entry and the Federal Skilled Worker Program (FSWP).
8. Low cost of living
Compared to other developed nations like the United States, the United Kingdom, and Australia, Canada's cost of living is lower. The affordability of Canada and its liberal immigration laws are the main contributors to the country's low cost of living.
9. Nature and Climate
Canada offers endless breathtaking natural landscapes. And as the second-largest country in the world, Canada has diverse climates and four distinct seasons. With permafrost in the North and a warmer temperature in the South, people may engage in a variety of enjoyable summer activities like visiting national parks and beaches, camping, hiking, and kayaking, as well as winter activities like skiing, ice skating, snowshoeing, and other winter sports.
10. Immigrant Friendly Country
Canada needs immigrants to boost its economy and well-being since it has one of the lowest birth rates in the world and an aging population. Achieving citizenship and permanent residency in Canada is a relatively quick and simple process. Canada has welcomed more and more new immigrants yearly (over 400,000 since 2021), offering them support services even before they get there.
It is no surprise that Canada is the leading destination for those seeking to migrate to other countries. The advantages of migrating to Canada are apparent – the fantastic country, breathtaking beauty, progressive culture, and plenty of opportunities.
Want to take the first step in your Canadian immigration journey? Discover your options. Fill up our free assessment form today, and a member of The Immigration Office team will contact you to discuss which pathway is right for you.