Toggle form
Personal information & Eligibility criteria
Quality of Life Index — See How Canada, Australia, Portugal, and New Zealand Score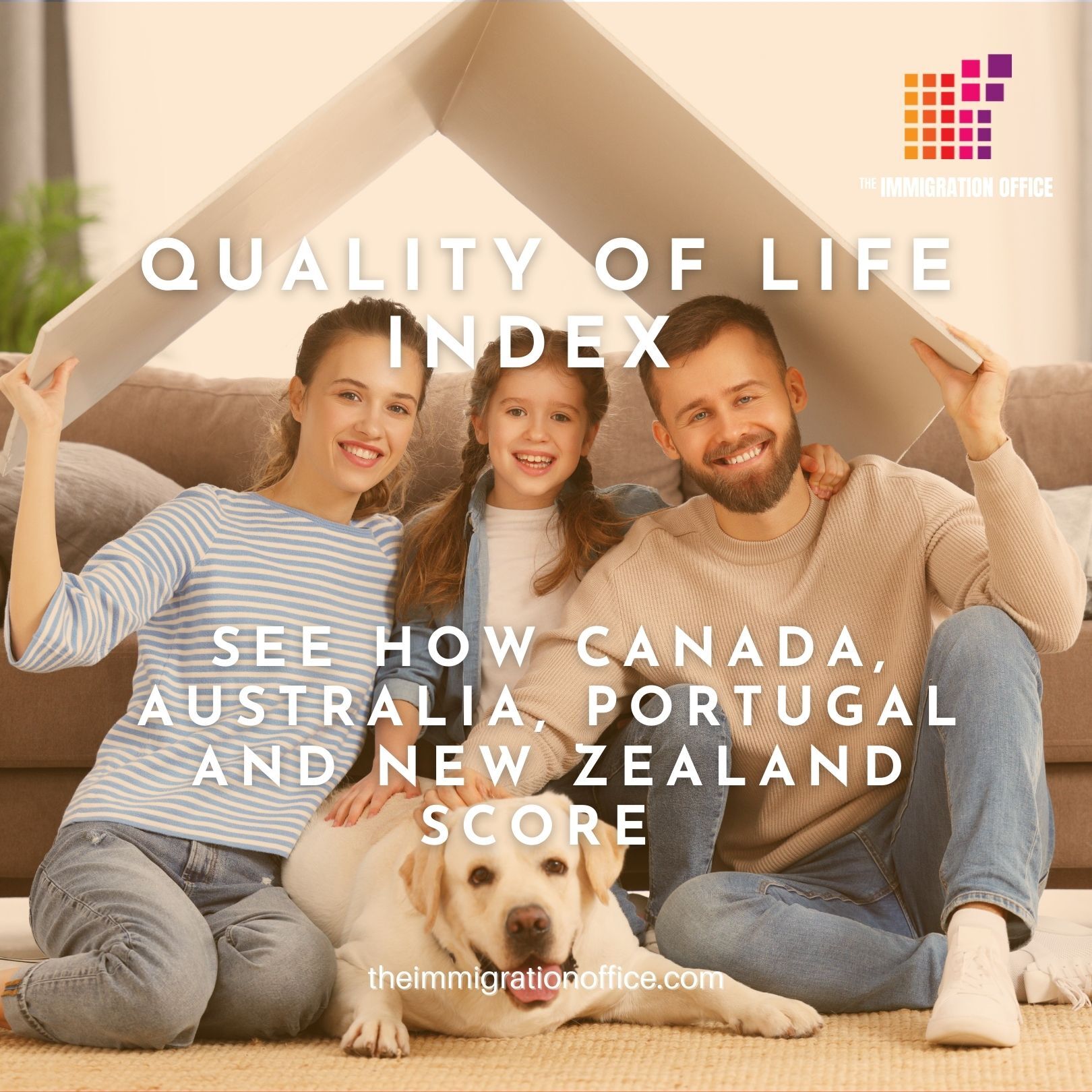 When you want to migrate to another country and decide which makes the most sense for you and your family, you will want to look at various factors. It is because each country has different factors that may or may not be crucial according to where you plan on moving. These may include affordability, safety, employment opportunities, income equality, economic and political stability, and the quality of education and healthcare. So, if you're planning on moving abroad, there are a few places that we think you should consider. We compared Canada, Australia, Portugal, and New Zealand based on their quality of life scores per the U.S. News and World Report, so that you can easily see their differences before you make your move.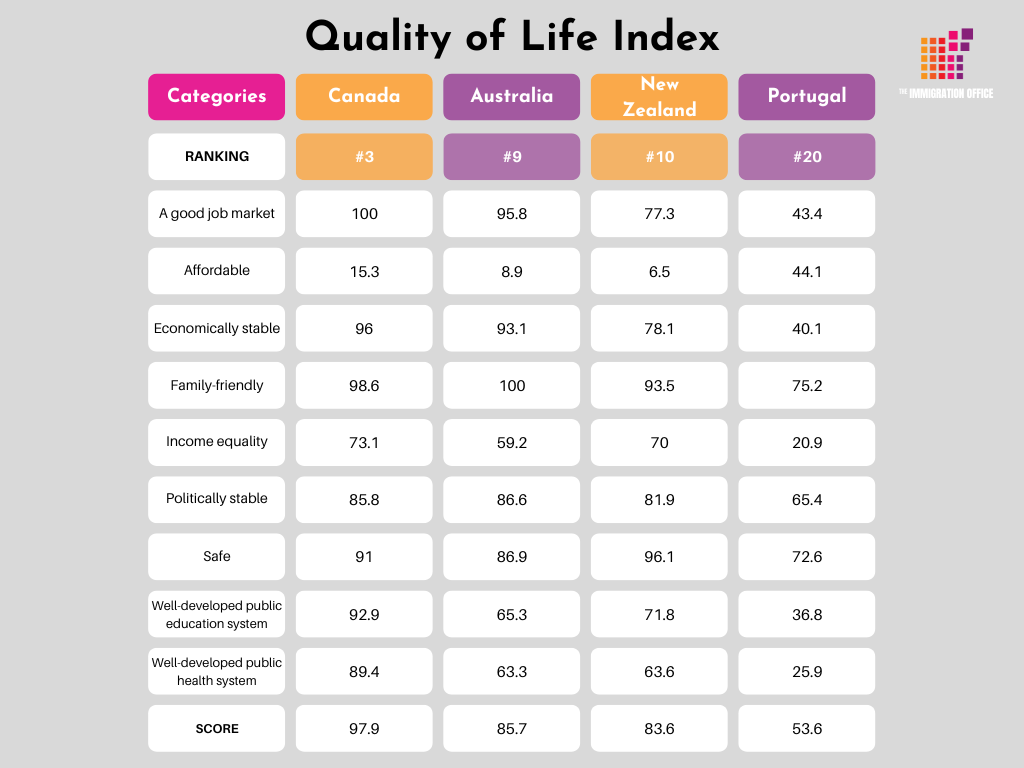 Canada – Ranking #3 / Score 97.9
Listed as one of the best places to live, Canada frequently comes out on top. The nation is praised repeatedly for its affordability, the healthcare and education systems , political stability, respect for individual rights, and environmental protection. As a whole, Canada has a social safety net that is adequately robust and guarantees access to both education and healthcare. People with special needs, seniors, and new immigrants looking for work are protected and assisted by various measures in place. The country also has a low crime rate and is very safe compared to others. It strives to offer the best for its citizens and residents, providing them with many opportunities to grow and prosper. The advantages of living in the country are apparent, with its open spaces, safety, and affluent localities. It is one of the safest and happiest countries in the world, so if you're looking for a better quality of life, Canada should definitely be at the top of your list.
Australia – Ranking #9 / Score 85.7
Life is good in Australia. It is one of the most highly-regarded countries in the world as it offers economic opportunity, a high standard of living, and a stable political environment, according to the US News Quality of Life Rankings. A wealthy nation with a market-based economy, Australia has a comparatively high GDP and per capita income. Its cities rank high in global livability assessments, and its residents have a long life expectancy. Its high-quality education and excellent healthcare are well-known worldwide, making it an ideal place for families. Safety, stability, and a friendly and relaxed culture make it easy to achieve a work-life balance in the home of the world's oldest living culture. At the same time, the country's beautiful environment and climate encourage an active outdoor lifestyle.
New Zealand – Ranking #10 / Score 83.6
Around the world, New Zealand is known for its high quality of living and leisurely pace of life. It is one of the most comfortable countries to live in due to its great ecology, rich culture, and economic stability. Not to mention, it is a remarkable destination with the beautiful natural scenery, a pleasant climate, and a warm and welcoming culture. The country has a stable job market poised for steady growth. The work ethic of New Zealanders is well-known, but they also place a high emphasis on maintaining a healthy work-life balance. Public healthcare is free or low-cost for citizens and residents. And with its low crime rate, the country is generally considered a very safe place to live. All this, coupled with an excellent education system and relatively low cost of living, make New Zealand a great place to raise a family. New Zealand should be at the top of your list if you want to live where many different cultures coexist peacefully.

Portugal Ranking – #20 / Score 53.6
Portugal has one of the highest standards of living in the world, with a fantastic Mediterranean climate, gorgeous scenery, favourable work-life balance, and a laid-back atmosphere. It is a very safe place to live and ranks as the fourth safest country in the world. From the cost of housing to daily essentials, Portugal is a very affordable to live in compared to most Western European countries. It has an excellent public education system and free healthcare for citizens and residents. Another significant benefit of relocating to Portugal with a family is that you may spend a substantial portion of the year outside with many activities to do. And that too with friendly and welcoming people. As the Portuguese way of life advocates that spending quality time with your family is vital for your health and well-being, expect to strengthen family ties when you move to Portugal.
Find out more about citizenship by investment in Portugal !
If you want to migrate to another country but are unsure where to begin, we at The Immigration Office are here to help you. As an immigration solutions marketplace, we assist people in efficiently navigating the process of immigration by providing accurate, up-to-date, and reliable immigration solutions tailored to their specific needs. Book a call today to discuss your options.