Toggle form
Personal information & Eligibility criteria
Provincial Nominee Series: E4 – SASKATCHEWAN, a strong candidate for the PNP winner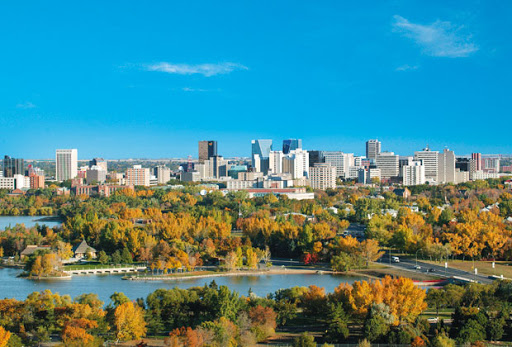 The province that proves to have a complicated name for offshore applicants does make its provincial nominee program simple and fast. It is hard for immigration advisers not to favour SINP, as they have proven to build one of the clearest and most comprehensive immigration programs through provincial support. So let's discover Saskatchewan together.
What do we know about Saskatchewan?
Saskatchewan is a prairie province in western Canada, the only province without a natural border. It has an area of 651,900 square kilometres, nearly 10 per cent of which is fresh water, composed mostly of rivers, reservoirs, and the province's 100,000 lakes.
Saskatchewan is bordered on the west by Alberta, on the north by the Northwest Territories, on the east by Manitoba, to the northeast by Nunavut, and on the south by the U.S. As of Q1 2020, Saskatchewan's population was estimated at 1,181,666. Residents primarily live in the southern prairie half of the province. Of the total population, roughly half live in the province's largest city Saskatoon, or the provincial capital Regina.
How's the weather?
The climate is extremely continental, rendering severe winters throughout the province. Southern areas have very warm or hot summers, with recorded temperatures of highest 45 °C (113 °F). Saskatchewan summers are usually warm and dry. High temperatures range from 15 C (60 F) in May to the mid-30s C (90-95 F) in July and August. The province averages the most sunshine of any Canadian province; nights tend to be cool. Winter normally begins in November and temperatures generally remain below the freezing point. Mild spring weather usually begins by April.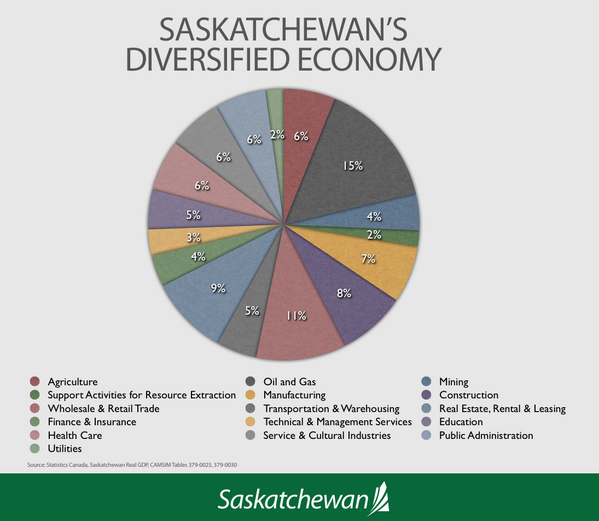 Profile of Major Industries
Oil and Gas Industry in South East Saskatchewan
Oil and gas is an integral part of Saskatchewan's economy, accounting for about 18% of the provincial Gross Domestic Product. In the Saskatchewan south-east region it is the major economic driver accounting for $553 million annually in revenue, or 38.08%, of the $1.4 billion in oil and gas revenue the province generated through royalty tax and land sales in 2009.
Mining and Power Generation
Mining is Saskatchewan's third-largest industry, a significant contributor to the provincial economy spending over $3 billion annually on wages, goods and services, and generating over $2 billion annually to the provincial government revenue through royalties and taxes. The future looks very positive for this industry with over $10 billion in new mines and expansions underway.
Agriculture
Agriculture in south-east Saskatchewan is more than subsistence farms, which were mainly designed for single-family or local daily needs. With the population growth and advances in agricultural science, many crops now are grown for profit, and large herds of animals are kept for large-scale livestock operations. In the earlier days, cash crops were only on a small scale, or completely non-existent and farmers only had as many animals as needed by the family. Subsistence crops and farms are now few and far between in southeast Saskatchewan. Today, the types of crops grown and animals raised are planned around international markets, ensuring that farms have a strong economic base.
Manufacturing
Key manufacturing clusters in the Province of Saskatchewan include machinery, transportation and industrial equipment; food, crop and beverage process; wood products; and chemical manufacturing. Emerging clusters include aerospace and defence, automotive accessories, and electronics and instrumentation.
Tourism
Tourism is an economic generator in Saskatchewan. Many communities have developed a tourism market for products, services, events and attractions to appeal to visitors from inside the province and abroad. A short list of these, definitely not exclusive, includes regional, provincial and national parks, annual community sporting and cultural events, festivals, historic sites and trails.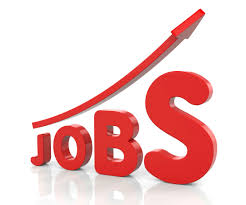 … as always, depends who's asking.
According to the labour market review published by the Government in 2019, the top 25 occupations with the most future job openings have a balanced set of skill requirements. Estimated annual wages in 2019 for these occupations, as shown in the table below, range from $27,200 to $95,200 compared to the provincial median wage of $59,300.
43,560 job openings are forecasted for these 25 occupations over the 2019 to 2023 period. Three out of every four openings are expected from the need to replace retiring workers and the remaining openings from economic growth. These top 25 occupations account for nearly half of the total job openings. Unfortunately, the occupations strikethrough are part of Category C or D in the NOC, so they would not fall under EE SINP, but all others that are listed in bold, do. While this list is in no way an official list of the prioritized occupations in Saskatchewan, being the highest needed occupations in the province and accounting for half of the market's job openings is a good indication of the high probability of being nominated.
| | | | | | |
| --- | --- | --- | --- | --- | --- |
| Rank | NOC 2016 | NOC 2016 title | 2019 wage estimate | Job openings | Skill level |
| 1 | 0821 | Managers in agriculture | $27,200 | 6,520 | Mgt |
| 2 | 0621 | Retail and wholesale trade managers | $65,200 | 3,490 | Mgt |
| 3 | 7511 | Transport truck drivers | $63,900 | 3,220 | HS |
| 4 | 6421 | Retail salespersons | $40,700 | 3,030 | HS |
| 5 | 6733 | Janitors, caretakers and building superintendents | $43,100 | 1,900 | LHS |
| 5 | 3012 | Registered nurses and registered psychiatric nurses | $95,200 | 1,900 | Univ |
| 7 | 1221 | Administrative officers | $53,800 | 1,780 | PS |
| 8 | 3413 | Nurse aides, orderlies and patient service associates | $46,900 | 1,720 | HS |
| 9 | 4032 | Elementary school and kindergarten teachers | $84,600 | 1,680 | Univ |
| 10 | 6731 | Light duty cleaners | $35,600 | 1,620 | LHS |
| 11 | 8431 | General farm workers | $35,700 | 1,510 | HS |
| 12 | 1411 | General office support workers | $47,500 | 1,500 | HS |
| 13 | 1241 | Administrative assistants | $48,800 | 1,490 | PS |
| 14 | 6611 | Cashiers | $28,500 | 1,220 | LHS |
| 14 | 6322 | Cooks | $30,500 | 1,220 | PS |
| 16 | 6711 | Food counter attendants, kitchen helpers and related support occupations | $29,400 | 1,140 | LHS |
| 17 | 7271 | Carpenters | $52,300 | 1,130 | PS |
| 18 | 1311 | Accounting technicians and bookkeepers | $50,000 | 1,060 | PS |
| 19 | 4413 | Elementary and secondary school teacher assistants | $30,800 | 990 | HS |
| 20 | 7512 | Bus drivers, subway operators and other transit operators | $49,900 | 980 | HS |
| 21 | 7321 | Automotive service technicians, truck and bus mechanics and mechanical repairers | $64,100 | 970 | PS |
| 22 | 7452 | Material handlers | $49,300 | 910 | HS |
| 23 | 1111 | Financial auditors and accountants | $73,100 | 870 | Univ |
| 24 | 4212 | Social and community service workers | $46,400 | 860 | PS |
| 25 | 4031 | Secondary school teachers | $86,300 | 850 | Univ |
The engineers' category is accounted separately as the highest demanded subclass, varying from production to design in O&G, civil, mechanical or electrical fields. One other element that needs to be taken into account when we talk about Saskatchewan is their requirement to hold a license in order to be nominated under licensed occupations. We, at The Immigration Office, do support applicants with licensing advisory and documents review in order to qualify to obtain a provincial nominee certificate. The licensing process, depending on occupation, can take anywhere in between 3-12 months.
High demand occupations that require a form of licensing:

• 0211-Engineering Managers
• 2131-Civil engineers
• 2132-Mechanical engineers
• 2133-Electrical and electronics engineers
• 2134-Chemical engineers
• 2141-Industrial and manufacturing engineers
• 2142-Metallurgical and materials engineers
• 2143-Mining engineers
• 2144-Geological engineers
• 2147-Computer engineers (except software engineers and designers)
• 2148-Other professional engineers
• 2173-Software Engineers*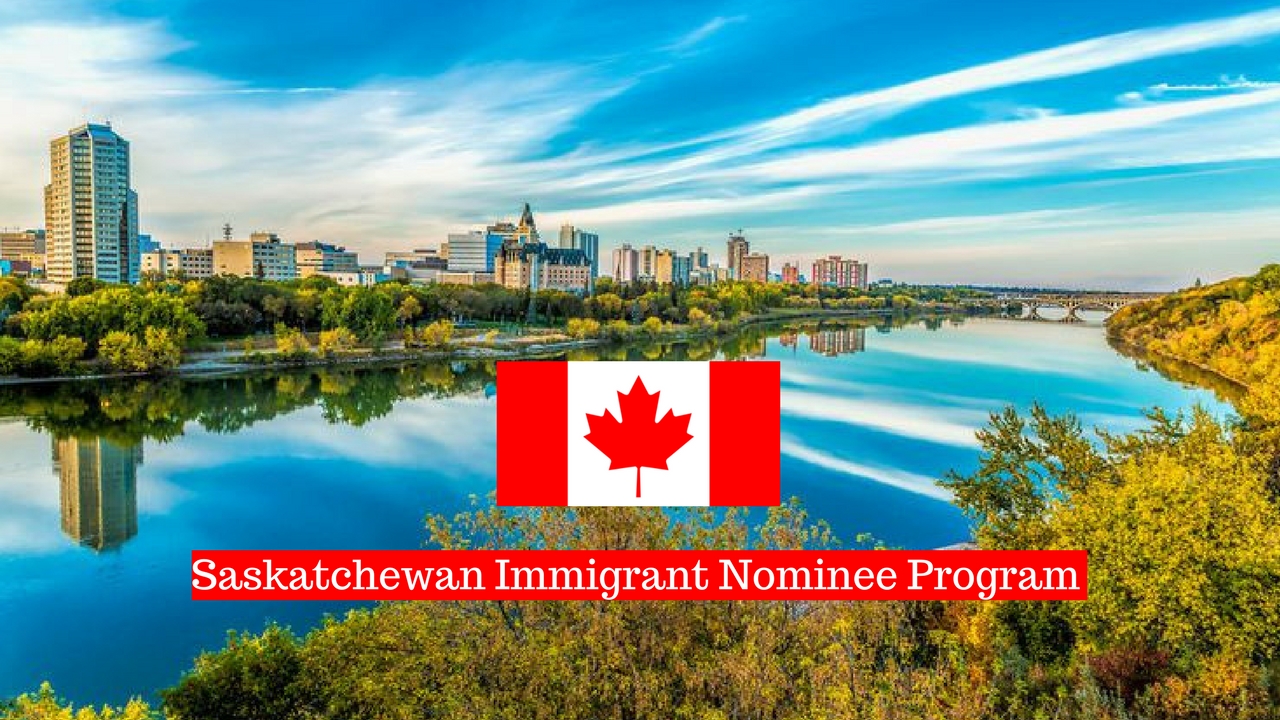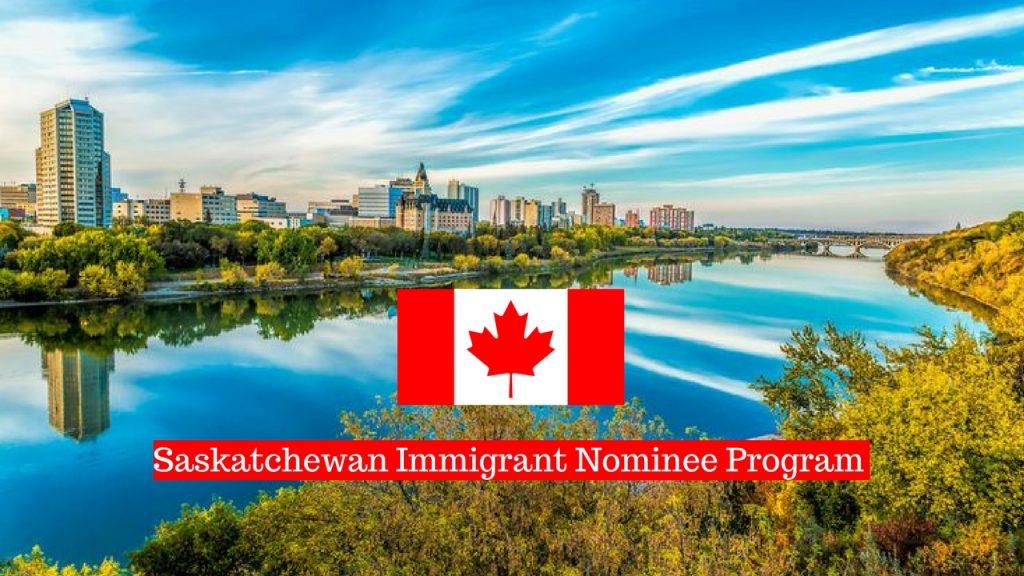 SINP – How easy is it though?
Through this program, SINP can nominate skilled workers who want to live and work in Saskatchewan. You'll need to meet the SINP criteria and have factors that will help you settle successfully in Saskatchewan, including but not limited to: education, skilled work experience, and English or French Language ability.
Occupation In-Demand
This sub-category is for skilled workers who:
Don't have a job offer in Saskatchewan but are highly skilled in an in-demand occupation.
Meet the criteria. Criteria can change at any time but the profile is assessed on the basis of the requirements at the time of submission.
Does not require that the applicant qualifies for Express Entry
You must score a minimum of 60 points out of 100 points on the Point Assessment Grid to be considered for nomination.
You are awarded points on the basis of five factors:
Education and training
Skilled work experience
Language ability
Age
Connections to the Saskatchewan (job market and family)
You must attach documents to support the eligibility criteria and points factors. For example, if you claim 20 points for having a university degree, you must attach a copy of your university degree and complete transcripts. If your degree is printed in a language other than English or French, you must also attach a translated version. In the same way, points claimed for work experience are counted excluding any time gaps in your history. Want to understand how to properly assess your points for OID SINP? There's an easy-fix-it-all for understanding how your profile would stand. Any of our advisers would happily offer you a free one hour review of your profile by signing up for a Free Assessment.
SINP – Express Entry
This sub-category is for skilled workers who:
Want to live and work in Saskatchewan;
Are in the Immigration, Refugees and Citizenship Canada (IRCC) Express Entry Pool; and
Meet the sub-category criteria.
To apply for this sub-category, you must submit an Expression of Interest. Candidates that are eligible and meet selection criteria will receive an invitation to submit an application. The points scores associated with an Expression of Interest profile will determine the likelihood of receiving an invitation. Those with high scores within the pool of candidates will have a greater chance of being invited to apply.
When you receive an Invitation to Apply, you must pay a non-refundable $350 application fee.
The Occupations In-Demand (OID) and Express Entry (EE) programs are for those who have education and work experience in an in-demand occupation. Eligible occupations must fall under the following National Occupational Classification (NOC) Matrix levels:
NOC A: jobs that usually require a university education
NOC B: jobs that usually require college education or apprenticeship training
NOC O: management
Both OID and EE SINP imply that your occupation should not be in the Excluded Occupation List. Reach out to one of our advisers to understand how your occupation stands on the assessment matrix.
Although it might seem like a tedious and complicated process, SINP remains a PNP favourite of immigration advisers. A good selection score, paired with proper documentation is a winning ticket for SINP. Even better news is that it is not linked to your CRS score, you don't need to qualify for EE and you obtain the maximum language points with a CLB 8 ( the common 6,5 in IELTS).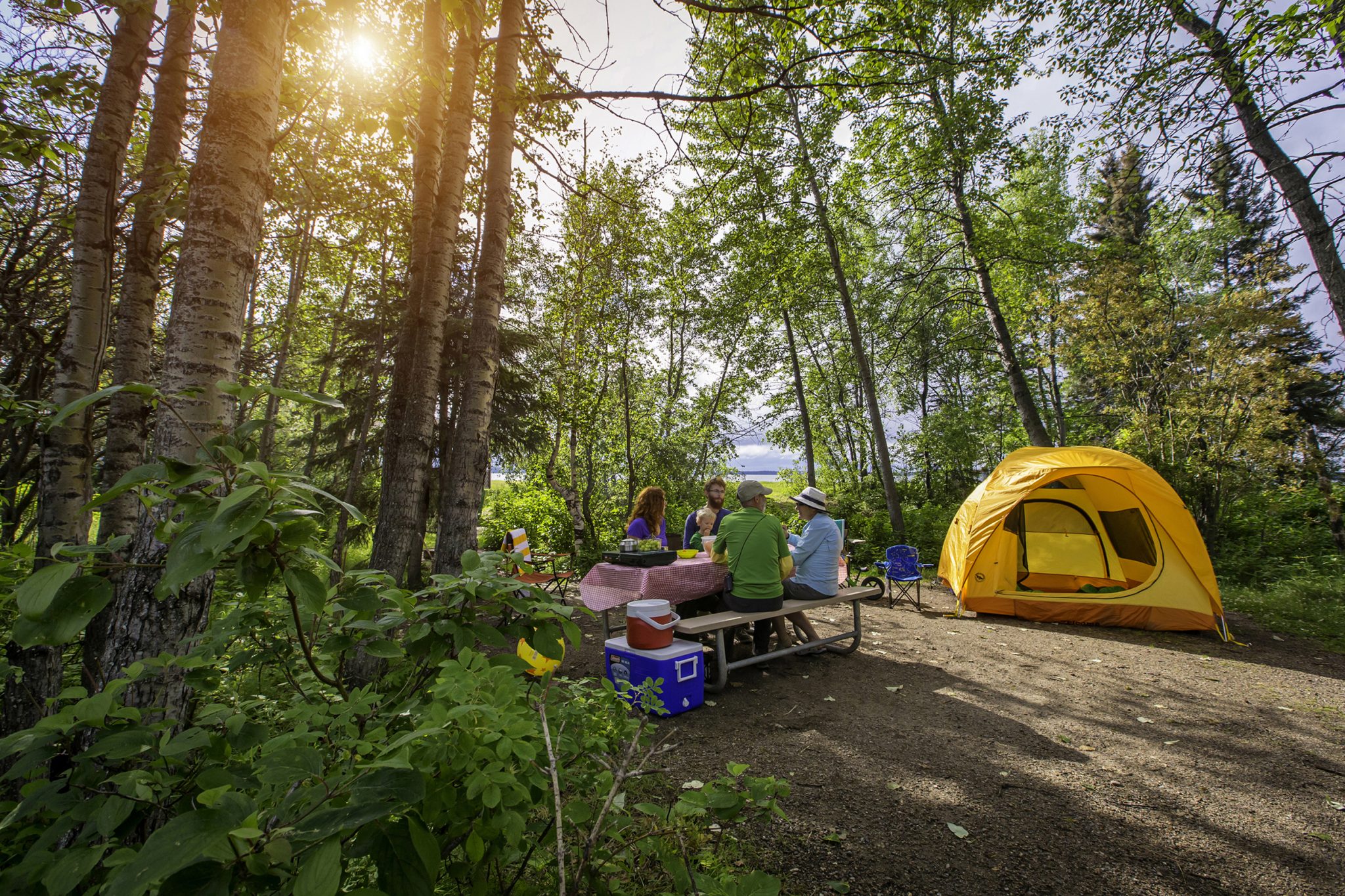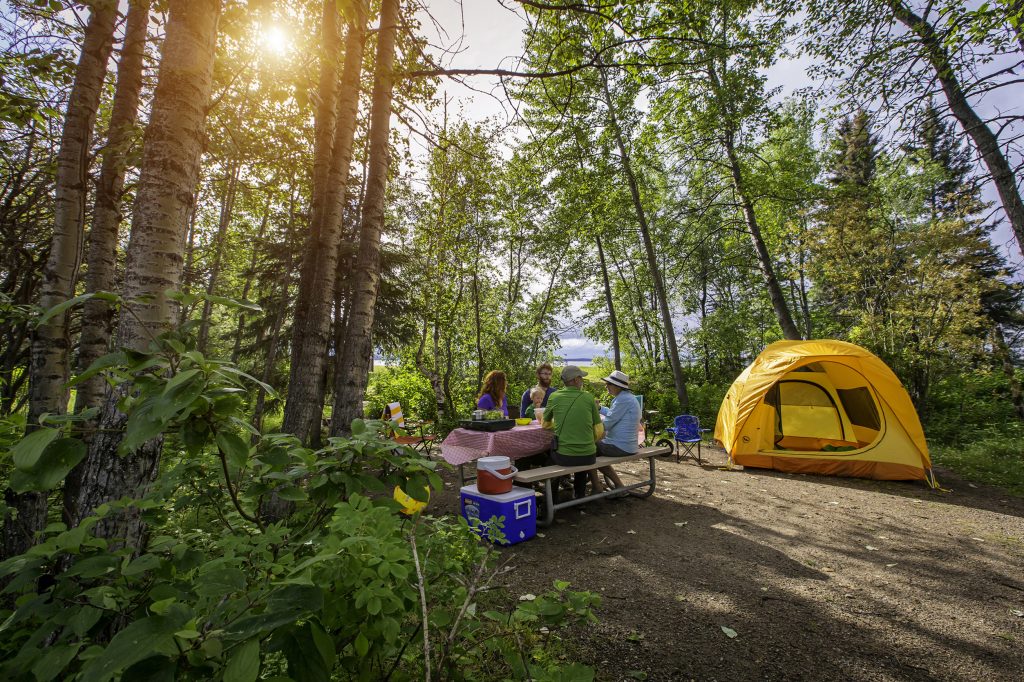 Higher incomes compared to other provinces.
Median after-tax income of Canadian families of two or more people was $71,700. Families in four provinces – Ontario, Saskatchewan, Alberta and British Columbia – had higher median incomes than the Canadian average. Saskatchewan comes in second place with $77,300 median after-tax income.
Cost of living
Saskatchewan is a province with a high quality of life and a low cost of living. The population has grown by over 144,000 in the last decade. The province is working to ensure that this steady growth continues and that Saskatchewan people experience the benefits of this growth.
The average cost of rental housing is the city is between $750 and $1,100 per month for a one-bedroom apartment, depending on location. Families can expect to pay between $1,600 and $1800 to rent a three-bedroom apartment in or around Saskatoon. The prices go down as you open the horizons towards the outskirt suburbs.
As of 2019, the cost of living in Saskatoon: Four-person family monthly costs: 3,980.20C$. A single person monthly costs: 1,141.86C$. Cost of living index in Saskatoon is 37.93% lower than in New York for example and rental costs are on average 54% lower than Dubai, UAE.
Community and lifestyle
Saskatchewanians are the friendliest and most welcoming people you'll ever meet. Canadians, in general, are known to be friendly but rumour says that people from Saskatchewan are the friendliest of all.
If you're a city person but enjoy being able to escape to the country when you want some peace and quiet, Saskatchewan is the perfect place to get the best of both worlds. The rural community in Saskatchewan works hard to produce food that is natural and homegrown. Plenty of farmers' markets are proof that the local food industry is really starting to boom.
There are downsides to living in a place where everybody knows everybody but the upside is that people are more willing to support each other and that creates a sense of community that brings people closer together.
Education
Education in Saskatchewan is generally divided as Elementary (primary school, public school), followed by Secondary (high school) and Post-secondary (university, college). Within the province under the Ministry of Education, there are district school boards administering the educational programs.
The state offers free public education for all students. Elementary schools offer Kindergarten to Grade 8 for ages 5 to 13. High schools (collegiates) offer Grades 9 to 12 for ages 14 to 21. Students can register at any time during the school year (September to June).
Access to Post Secondary Education
Saskatchewan's post-secondary education system encompasses the province's public and private learning institutions: two universities, which includes four federated colleges and six affiliated colleges; one polytechnic; eight regional colleges; four Aboriginal and northern educational institutions; 38 vocational schools; the apprenticeship and trade certification commission; and other learning institutions (i.e. theological colleges). All institutions have the possibility to offer bursaries, subsidized education and available payment plans for citizens and residents of Saskatchewan.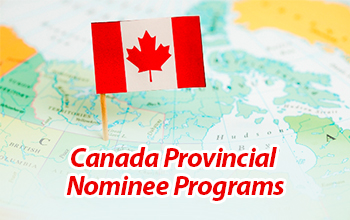 Should I consider migrating?
… that's for you to know. Have a sit-down with your family and list all the reasons why you are considering immigration. See if your list incorporates reasons that are true to the Canadian values in order to understand IF Canada is the ideal destination for you.
Then get to work!
Do your due diligence and make sure you talk to a registered immigration consultant ( ask about RCIC affiliation?)
Check reviews, feedback from previous applicants and get a free assessment to see if the work style matches your expectations.
Ask for a written agreement of the services provided and read it.
And if we're talking about Saskatchewan, ask about the experience with SINP, as usually, consultants are specialized on some of the programs.
Is Immigration a Risk or an Investment?
It surely does depend, doesn't it? Like any other investment, factors that come into play will be based on reviewing your chances, the return on investment and the amount of risk involved for that return.
If you follow the advice above and follow each step, have a solid adviser next to you and treat your process seriously, migrating to Canada can be a oh!-so rewarding investment in your family's future.
Remember, give us a shout out by filling up the Free Assessment tool and our advisers will reach out to help.