Toggle form
Personal information & Eligibility criteria
Your First Steps in Canada – 12 Essential Tips to Help You Settle Smoothly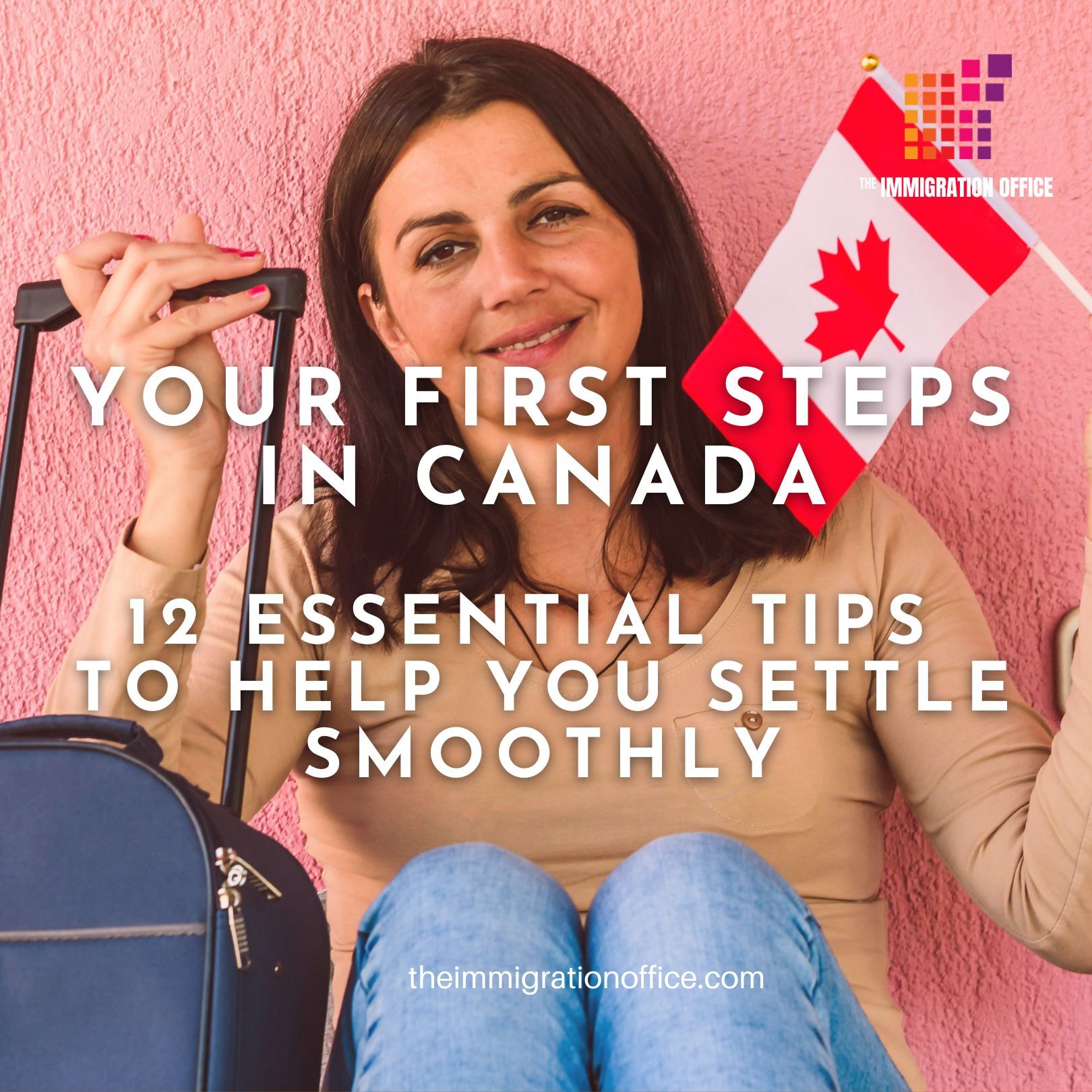 Canada is a great place to start a new chapter in your life. Whether it is the big city hustle and bustle, the rolling hills or the cultural diversity that beckons you north, everyone has a reason for wanting to move to this in-demand migration destination. The country is vast and beautiful, with a culture that welcomes newcomers.
However, although settling into a new country as a newcomer can be an exciting experience, it is also quite challenging and stressful. There are several tasks newcomers must complete once they arrive to prepare for their new life in Canada. While the process can seem overwhelming, the Canadian government provides numerous resources to help newcomers at every step of the way.
So, whether you are moving to Canada to study, work or immigrate permanently, here are ten must-know tips that will help you settle smoothly in your new home:
1. Check out the newcomer welcome centre
When you arrive at the airport, do not forget to check out the newcomer welcome centre. Often located near the baggage carousel, these kiosks will have pamphlets and resources to help you in your first days in Canada.
2. Find a place to live
You will need a place to live right away when you land, so it is crucial to start looking for accommodation before you leave home. Hotels or hostels are a good option for short-term housing. Once you know where you will live, start looking for a longer-term rental in your chosen city and neighbourhood. Make sure you research where you want to reside long-term before you commit to a lease.
3. Apply for health insurance
When you arrive in Canada as a permanent resident, you can apply for public health insurance through your provincial or territorial government. Each province and territory has its health insurance plan. Apply as soon as possible, as you may need to wait up to three months. Ensure you have temporary private health insurance during the waiting period. You may also buy private insurance for services your public plan does not cover. Some Canadian employers offer extended health insurance coverage for their employees.
4. Apply for your Social Insurance Number (SIN)
After arriving in Canada, apply for a SIN card at a Service Canada office as soon as possible. You need a SIN to get a job, apply for government programs and benefits, and access credit. You must show proof of your identity and status with a permanent resident card, work or study permit.
5. Visit a local immigrant settlement agency (ISA)
ISAs receive government funding to offer newcomers programs to help them settle in their new community. These include free ESL training, settlement counselling, employment workshops, job search assistance etc. In addition, ISAs host programs like buddy programs and newcomer events where volunteers will meet with newcomers to help them through the first few months in Canada.
6. Provide Citizenship and Immigration Canada (CIC) with your Canadian address
To receive your permanent resident card in the mail, provide CIC with your Canadian address. You can do this online via www.cic.gc.ca/english/information/ change-address.asp.
7. Open a Canadian bank account
You should open a Canadian bank account as soon as you can after your arrival. It will allow you to pay bills, manage debit card payments and avoid costly withdrawals from your home account. You can open a personal bank account even if you do not have a job, permanent address or money to put in. Many banks have services specifically for newcomers to Canada.
8. Get a local cell phone plan
One of the first things you need is a local cell phone plan and number. Not only will it allow you to stay in touch with friends and family back home, but it will also allow you to explore your new surroundings more easily. You can use Google Maps to find places, see local weather forecasts, and navigate public transportation easily. It will also make you accessible to potential employers and landlords. The cost of roaming services in Canada can be high, so it is best to avoid them altogether if possible.
9. Get your Canadian driving licence
If you plan to drive in Canada, get a Canadian driver's licence. An international driver's licence is only valid for a few months. You may need to take the knowledge and road test (including the vision test) at a provincial licensing centre. You will also need proof of identity, age and residency in Canada.
10. Connect with your community and make friends
Making a solid network of good friends and acquaintances can help you feel truly at home in your new city. It will grow your professional network and help you find a job in Canada. Some organizations connect newcomers with other immigrants or Canadians who have already settled here. These groups also hold regular social events where you can meet other people from all over the world. The more you get involved in the community, whether it's attending events, joining clubs, volunteering or joining online groups, the more you'll get out of it.
11. Enrol your children at school
If you're moving with children between the ages of five and 16, they're entitled to attend school in Canada for free. Contact the local school board or visit their website. Some schools take care of enrollment through a registration process when families arrive at their new homes. If you are unsure what to do – contact the local school district for more information. There are different rules for younger children, so check with the local educational authority before moving.
12. Learn about Canadian laws and your rights and responsibilities
Canada has a unique legal system based on British common law, with French civil law playing a vital role in Quebec. As a resident of Canada, you need to learn about Canadian laws as well as your rights and civic responsibilities. To find out more, visit your local library or go online to research citizenship and immigration regulations, taxes, real estate laws, and labour laws.
At the Immigration Office, we understand what you are going through and are here to help. We will walk you through everything you need to know about navigating Canadian immigration, settling, and getting off to a great start on your new life in Canada.
Best wishes in your new home. Congratulations, and welcome to Canada!