Toggle form
Personal information & Eligibility criteria
Why Dominica? A Caribbean Escape with Friendly People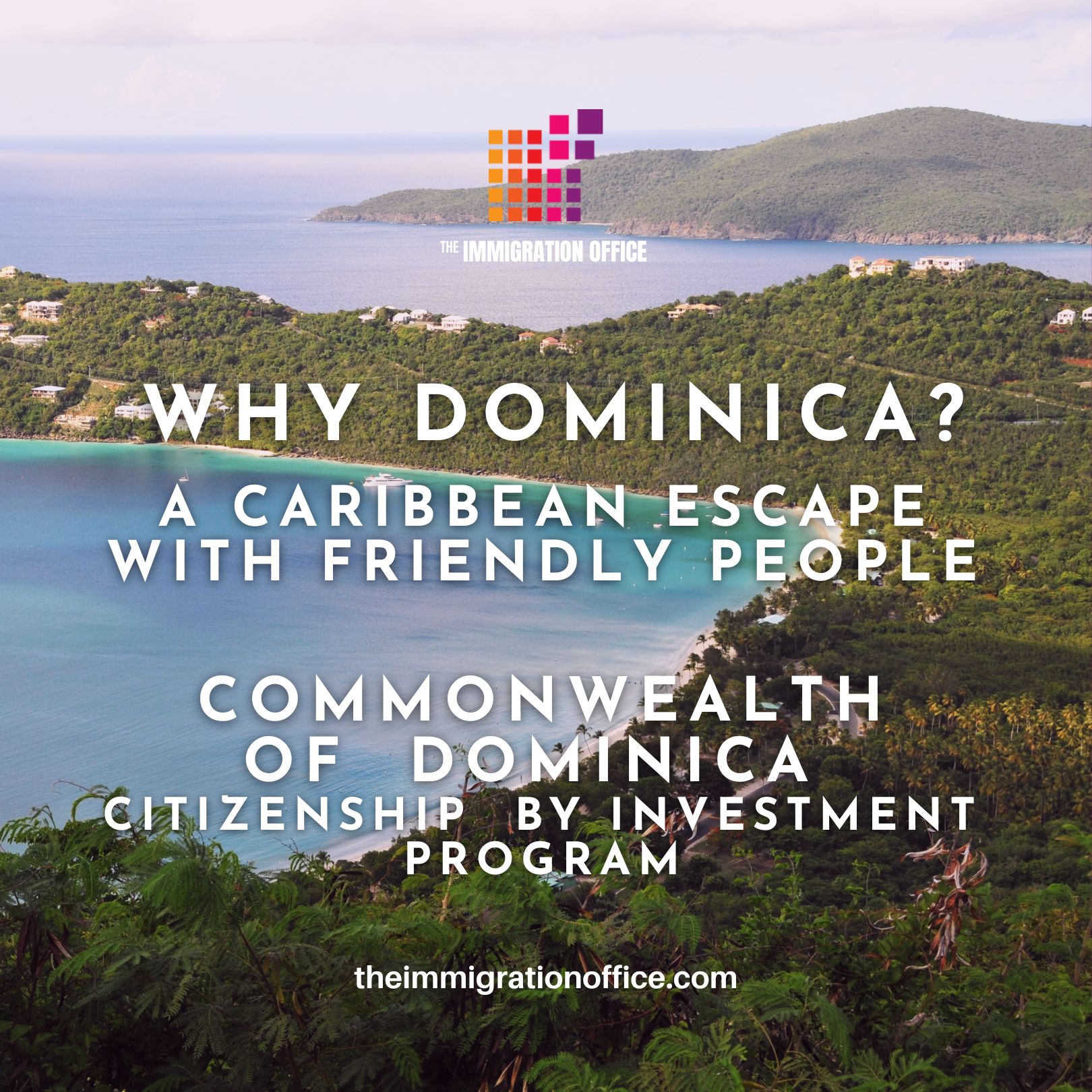 With its rich history and island culture that stands out from other countries in the region, the Commonwealth of Dominica has a lot to offer those seeking second citizenship. The Caribbean nation offers abundant natural beauty and adventure vacations for its citizens, as well as numerous benefits for expats and travellers who want to experience the richness of this beautiful country. Here we list why you should apply for your second passport in this beautiful island country.
Nature Island
Dominica has a reputation for being one of the most beautiful islands in the world, with spectacular lands and seascapes that have largely remained untouched. The country is known as the Caribbean's "Nature Island." Surrounded by nature, Dominica has three national parks, 365 pristine rivers, welcoming waterfalls, green mountains, lush tropical forests, hot springs, stunning white and black sandy beaches and animals unique to the island. Although the island is only 750 square kilometres, Dominica is a paradise, especially for outdoor adventurers. It offers a variety of speciality resorts and is the ideal haven for the ecotourism sector. It is easy to see why the nation is one of the happiest places to live because of its safe and stable environment and plenty of natural splendours.
Welcoming Culture
Dominica also draws people from all over the world because of its welcoming, colourful and vibrant mix of cultures, evident in the people, language, food, art and music. Dominicans, known for being among the friendliest you will ever meet, are always willing to help and can make anyone feel at home. They radiate passion, especially in how they speak, dress, dance, and embrace each other, whether they are neighbours or visitors. The core of Dominican culture is deeply rooted in British influence, besides the impact of English being the first language. With strong traditional values, the family holds a vital role in Dominican society.
International Mobility with Visa-Free Travel
Travelling with a Dominican second passport increases international mobility providing visa-free access to 145 countries and territories worldwide, including the European Union (EU) and Schengen Area. Dominican Passport holders have access to four of the largest economies, Germany, the UK, France and China. It may be easier for passport holders to obtain a business visa or residence permit in many other Commonwealth nations, such as Canada or Australia. Passport holders can also apply for a 10-year visitor visa to the US.
Cost-Effective CBI
With a $100,000 donation to the government's National Development fund for single applicants or a $200,000 property purchase on the island for families, the Dominica CBI program offers one of the most affordable possibilities. So if you are an investor with a clean criminal record and a solid reputation, Dominica may be the most accessible country to obtain citizenship by investment. Thanks to its effective and well-structured scheme.
Dual and Lifetime Citizenship
Dominica will never ask investors to renounce their citizenship and never share any information with foreign governments due to the full recognition of dual citizenship in the country. It allows investors and their families to discreetly enjoy their dual citizenship by not publicly listing their identities. The primary applicant and all dependents listed on the application become legally Dominican citizens for life once they obtain their passports and certificate of naturalization. Its legal system guarantees irrevocable citizenship, which can be passed down to subsequent generations, making it among the simplest methods to secure your family's future.
Tax Optimization
The tax system, with no taxes on wealth, gifts, inheritances, foreign income, or capital gains, is one of the benefits of having Dominican citizenship. As a citizen, you would only pay personal tax if Dominica became your primary residence for tax purposes. Additionally, Dominica has double taxation agreements with St. Kitts and Nevis, St. Lucia, and other CARICOM nations to prevent double taxation facilitating the flow of capital throughout the community.
No Residency Requirement
There are no residency requirements for Dominica citizenship by investment, and potential applicants are not even required to visit the country. All citizens of Dominica have unrestricted access to passport renewals at all times. Although the Dominica CBI program has no residency requirements, many investors might want to travel after obtaining citizenship to enjoy the magnificent country they have invested in.
Get your money back
If you choose the option that includes buying real estate and investing at least $200,000 in items authorized by the national government, you can get your money back by selling your share after three to five years.
So if you are dreaming of a stress-free life, finding that work-life balance and reconnecting with nature, the Dominica CBI program is the program for you. This breathtaking nation's health and wellness assets, rich flora and fauna, and cultural heritage, along with its safe transportation systems, top-notch medical and educational facilities, and excellent internet connectivity, are ready to welcome you and your family.
Do not just dream of living in paradise – let The Immigration Office help you make it a reality. Let us help you obtain Dominican citizenship, so you can escape the stress of the world behind you and switch to a healthier and more liberating lifestyle. Give us a call, and we'll help you live that island dream.