Toggle form
Personal information & Eligibility criteria
3 Reasons Why You Should Invest in Antigua & Barbuda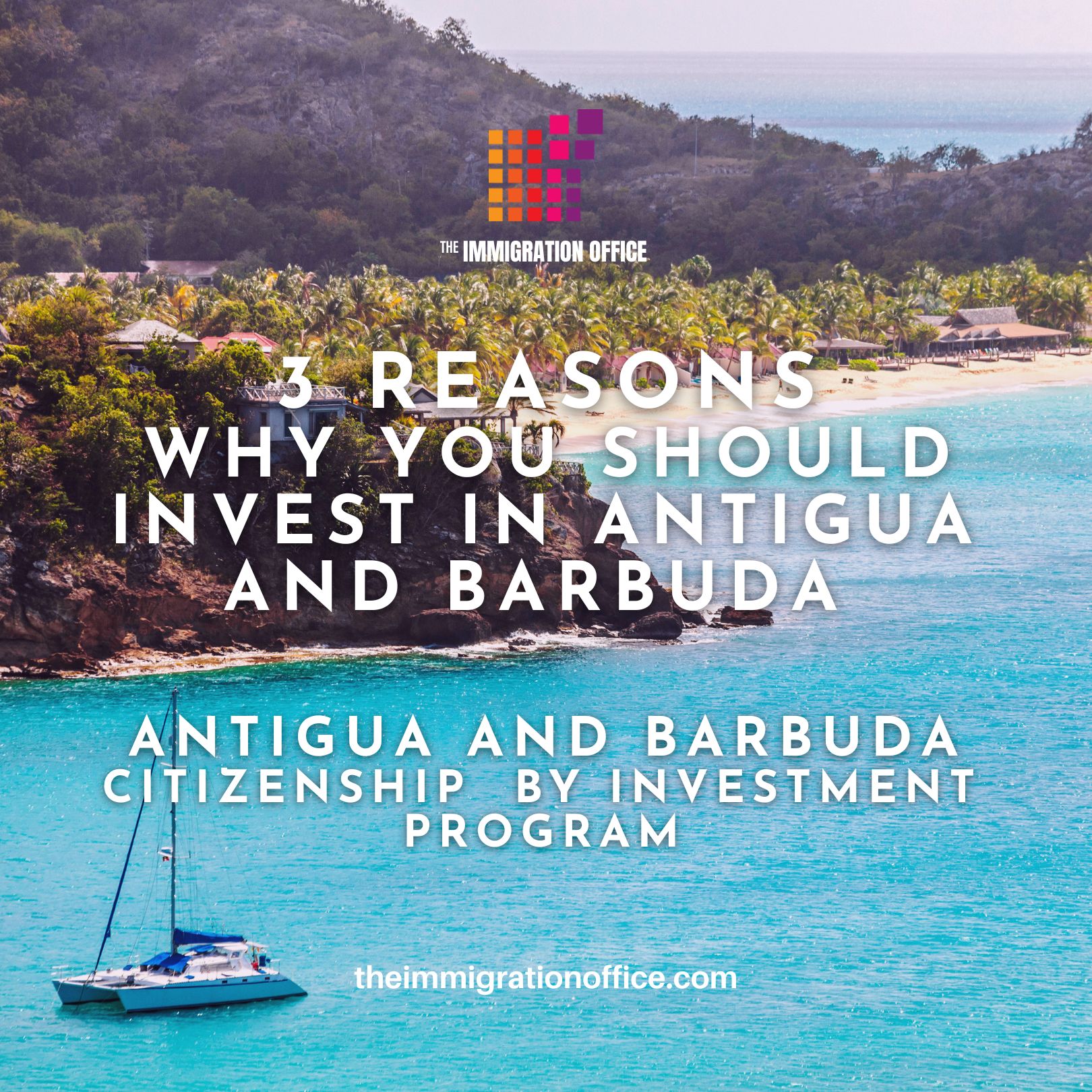 The Caribbean is a dream destination for holidaymakers and businesspeople alike. So, if you are thinking of moving or travelling abroad, then citizenship-by-investment could be your most helpful tool. To give you an idea of what this means, here are 3 reasons why it's such a great place to live as well as how it's beneficial for your future.
The best country for you
Antigua & Barbuda is an island paradise which offers the opportunity to live a life full of luxury and adventure. A perfect combination of natural beauty with its lush tropical vegetation, white sand beaches, and turquoise waters, alongside a rich cultural heritage, laid-back lifestyle, world-class cuisine, and welcoming locals, it offers all the essentials needed to make you feel at ease. One of the most popular tourist destinations in the Caribbean region, it attracts thousands every year with its botanical gardens, world-class hotels & resorts, villas, golf courses, historic churches, waterfalls, adventure sports activities, and much more. With an estimated population of 98,000, it is the most populated Anglo-Caribbean Island, so the language barrier won't be a concern either. It is also one of the safest and wealthiest islands, with a gross domestic product per capita that is among the highest in the entire western hemisphere! Its diverse, booming economy places very few restrictions on foreign investment in the country, along with no capital gains, wealth, gift, inheritance, or worldwide personal income taxes, making it ideal for CBI. And, with dual citizenship allowed, you are not required to renounce your current citizenship either.
Visa-free travel
The Antigua & Barbuda passport is a gateway to the world. Considered the 23rd strongest passport worldwide, it lets you enjoy visa-free travel to over 150 countries, including all of the Schengen area. Passport holders are permitted to stay 90 days out of 180 in Schengen countries, 180 consecutive days in the UK, 90 days in Hong Kong, and 30 days in Singapore. Additionally, citizens can apply for a 10-year B-1/B-2 USA visa, allowing them to stay in the States for up to 180 days per year.
Easy way to invest
Investing in a CBI in Antigua & Barbuda is one of the best ways to invest your money with incredible returns. It is the most cost-effective Caribbean programme, with a minimum investment of $100,000 as a government donation for a family of up to 4 members. Real estate is the best recoverable investment with a minimum of $200,000 in a government-approved property which can be resold after five years, generally returning the initial investment. For families of 6 or more, the university contribution with an investment of $150,000 is the best option, it comes with the opportunity for one family member to study at the University of the West Indies, free of tuition fees for one year. For business investors, an investment of $1.5 million can obtain an Antigua & Barbuda passport. For group business investments, at least $5 million is required, with each investor contributing at least $400,000. There are no interviews, business experience, or language tests needed. The application can be completed remotely and is processed in as little as three months.
The only hard part of the application process is figuring out which investment option is best for your unique circumstance. It is up to you and your family to decide, however, at The Immigration Office, we can offer advice on what each option entails so that you can make an informed decision and choose what suits you best.
So, if you want to escape the mainland chaos and enjoy a permanent vacation in paradise, Antigua & Barbuda is the perfect sunny escape for you and your family. You will join celebrities like Oprah Winfrey, Eric Clapton, and many more who have made it their holiday home. Call us now at The Immigration Office and take the first step in your journey to paradise.